Xbox 360 Slim Is Dope? Naw! A Portable 360 Is Dope!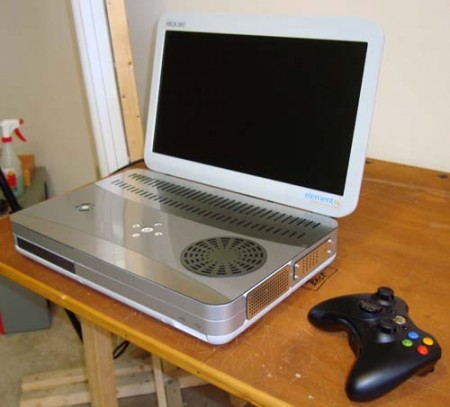 Check out this ridiculous son of a bitch designed by Ben Heck. A fucking portable Xbox 360 Slim. Filed under: useless, but amazing. Heck goes the all the fucking way with this thing. He drops the specs on us:
You knew this was coming — the Xbox 360 Slim Portable.

Big differences compared to my older models:

About 1.5″ inches narrower left and right, 1″ narrower front to back.
Internal power supply.
Uses stock Xbox 360 Slim fan so it's much quieter than my older 3 fan models.
Touch sensitive power and eject buttons of the Slim have been preserved.

Not so big differences:

Pushbutton control audio amplification.
Gateway 1775W 17″ widescreen LCD display @ 1280×720.
Fan grate design copied from PS3 Laptop design.
PVC plastic routed case.
Fucking ridiculous. Head over to Heck's site for a shitload of more pictures, and a Youtube video that goes inside the constructing of this monolith.