Yo! Got $435? Buy This Super Mario Sweater! [For Me.]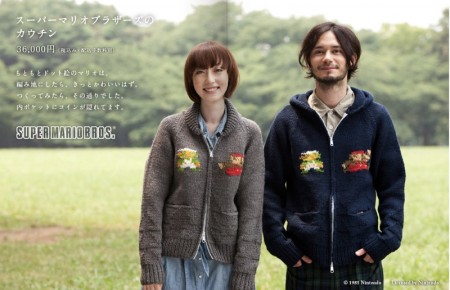 Yo! I know you're sitting around wondering how you can define yourself through external expressive motions! How about by buying a really fucking expensive sweater, featuring Super Mario? Not sold, well how about if it's through the website from the dude who created Earthbound?
Shigesato Itoi, the man who created Earthbound, has an online store where he sells things that are rad. His store just released its "1st Season" catalog for 2010 and it features some really cool stuff. The most relevant to a gaming site is a really sweet wool sweater featuring Mario and Luigi.

The sweaters are 100 percent wool and made by hand. It's all licensed and official too. Here's the kicker, though: they cost ¥36,000 (US$435), and that isn't even adding in whatever the shipping costs would be to get it out of Japan. I'm all for high fashion, but I'd rather just buy every Mario game ever and then find a Mario sticker and slap it on an old sweater.
Man, this shit ain't for a nerd like me. For starters, I'm fucking poor. Also, I'm a man-child, which means within nine minutes of owning this sweater, it'd be covered in accidental salsa blasts and crumbs from a variety of things. But if you're affluent, and chic, be a total douchebag and indulge in this sweater. Then send me pictures so I can simultaneously find you ridiculous/be fatally jealous of you.