Geeks Ahoy!; Yesterday Was Read Comics In Public Day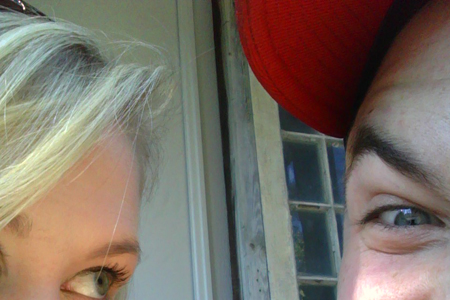 As you may or may not know, yesterday was Read Comics In Public Day. It was a joyous day, filled with geeks strutting their geeky stuff in front of the masses. Mrs. Caffeine Power and I saw to it that we outed ourselves as geeks. Well, at least that she outed herself.
I was the big clunky kid wearing the Star Wars t-shirt, I don't think I could have made it anymore obvious.
We kicked off the day by hitting up the fair streets of Salem, Massachusetts. And in a more rapturous moment, I finally, finally, finally found the first trade paperback of Jeff Lemire's Sweet Tooth. It was at a comic book shop far from the confines of my regular Nerd Hovel that I frequent every Wednesday. After acquiring said trade paperback, we decided to nerd up a few spot locations throughout Salem. Basically, it's just me looking stupid and the Future Wife looking beautiful and obliging to my nerd proclivities.
Hit the jump to see how dorky we are.