Pixelation: Bioshock Infinite Is Why I Do This.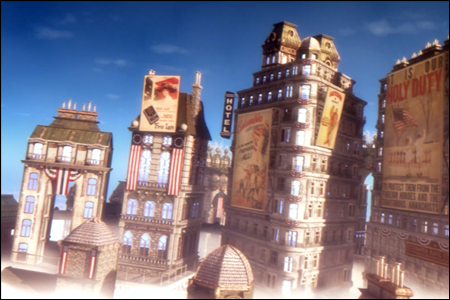 [pixelation | weekly gaming & life column every wednesday or uh thursday]
–-
Dear comrades, sometimes, in my darkest moments, I think about hanging up my blogging shoes. They are crusty shoes, albeit comfortable. More than that, they're familiar shoes, my toes fitting snugly in them. Right where they should be. Nonetheless, sometimes in a fit of madness and what is exhaustion at vomiting out thousands of words a day, I say, no, I am done.
Then shit like Bioshock Infinite happens.
I exist within a weird nebulous bubble. I am graduated from my undergrad career. Eight years and three million credits later! But I have not wasted away enough hours and dollars to acquire both my Master's Degree, nor my certification to teach in the lovely state of Massachusetts.
Not yet.
Even within this weird bubble where I have far too many hundreds of pages to blow off and what seems like endless time, fuck, sometimes I get tired of wading into the data stream and culling from it interesting pieces of Non-Essential-But-Intriguing Information.
Then shit like Bioshock Infinite happens.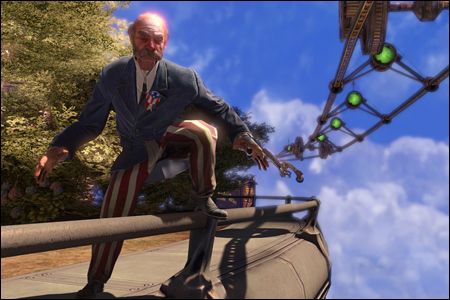 Today with the trailer dropping for Bioshock Infinite, I recalled that despite the fatigue that arises from vomiting endlessly into Word Press text boxes, I need this site.
That despite the fact that I'm pushing away loved ones because I'm often downstairs in my dungeon compulsively refreshing websites looking for new bullshit to devour and present to you while my girlfriend is all "Dinner is ready!" and I'm all "Fuck one second! Fucking shit! There's a new Youtube video where a fucking cat plays the Super Mario Brothers' Theme on the ukulele! I need to post this!" I can't abandon you. Not yet.
Why?
Cause shit like Bioshock Infinite happens.
I am an excitable person. What you see here isn't feigned or forced. I am on the precipice of near-stroke out of excitement or apoplexy almost all the time. I'm one enormous news story away from losing my fucking mind. If they were ever to announce a Mass Effect that took place on the desiccated earth from Fallout, and called it something like Fallout: Mass Effectachusetts, I'd fucking combust.
Well, not really.
Why?
Cause I have this place.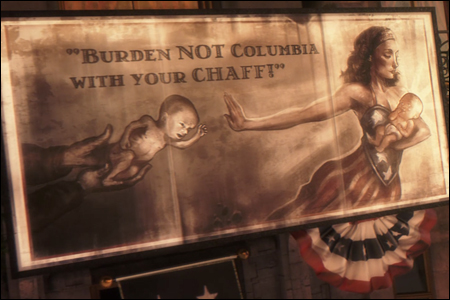 At the core of this website is a safety valve. The safety valve is attached to my Excitement Gauge. And posting inane bullshit that I'm excited about allows me to throw the switch, and safely express my excitement. I need this place, yo. If I don't have a venue for my excitement, or my nerd rage, do you know what would happen?
Blood. Kittens. Fur. On fallen grandparents. An evil cackle. A lawsuit. Back to the psych hospital for me. I need you guys. You're a safety valve. An outlet for my insanity. Sometimes that's yelling "OH lord I am cumming rockets over Insert Video Game", other times it is "OH lord I want to stab Comic Writer X in the face with a sharpened dialogue bubble!"
Either way. I need to get it out. Keep it healthy.
Sometimes I forget this.
But then I remember.
Cause shit like Bioshock Infinite happens.
When the trailer for Bioshock Infinite dropped today, it was a textbook example of my insanity in motion.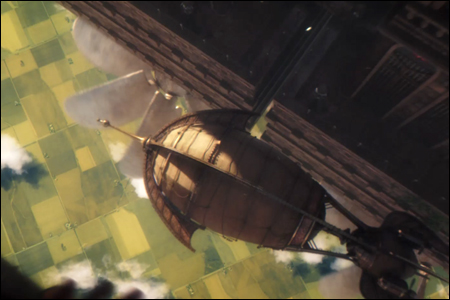 The first response to something that excites me is always this "UH:KLJHkjhglk;g;h;.b!" which is my mind reeling in excited confusion. It's followed by me running upstairs, grabbing a can of Diet Mountain Dew, and feeling the cold acidic goodness pull me momentarily out of my stupor.
In the olden days, when I didn't have Omega Level, fuck man, it got ugly. I'd sit there, staring at my computer screen. Testicles taut with excitement, pupils dilated. I would be brimming with burning spirit, feeling like I could take on the world. I'd have nowhere to go. No one to assail with my enthusiasm.
Sure, I'd leave some insane instant messages to friends, "HOLY FUCKING SHIT BIOSHOCK INFINITE IS COMING OUT, MY DICK HURTS, RUB IT WHILE I RECITE A POEM ABOUT KEN LEVINE."
But it wouldn't be enough. It wasn't satisfactory.
Then I'd find my nearest loved one, and try and convey my excitement to them.
"Hey Nana!" I'd say.
"Yes dear?!"
"FUCKING BIOSHOCK INFINITE IS COMING OUT!"
"Why yes it is a shock that I have fourteen pairs of panties."
"NO NANA, BIOSHOCK. INFINITE."
"Biology class?"
"FUCKKKKKKKK…..WE'RE ALL WAITING FOR YOUR DEATH."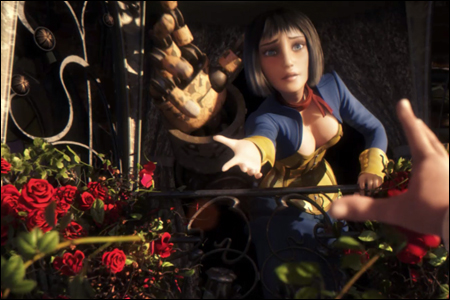 And then I'd run downstairs, chest heaving, annoyed that no one understood. And word, I still do all that. Sadly. The instant messages, the creepy leer at a loved one, as I hope in vain that I would get them to be as excited as I am. But after that? Then I turn to you pig fuckers.
I can't quit you douchebags. I can't quit blogging. A sickness. I need release, release from my near-paralyzing enthusiasm for the bullshit that I'm into. I could only quit this place until the next Big Announcement or Comic Book Storyline that had my loins bubbling in a cauldron of Nerd Slop.
So even when I get tired of posting, when I swear to myself I'm going to quit this place, and go write the Next Novel That Isn't Great Nor American in the woods, I know the truth.
I can't.
Cause shit like Bioshock Infinite happens.