Call Of Duty: Black Ops Prestige Edition Ups The Douchebag Ante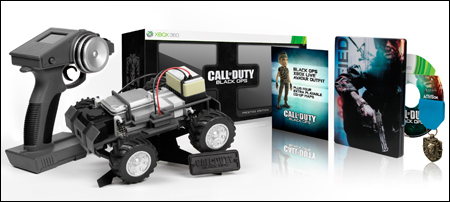 Collector's Editions are at war with one another. Last year the Modern Warfare family brought everyone night vision goggles, which felled the previous Douchebag Winner, the Spartan Helmet Douchecon Edition from Halo 3. Well! Well, then. Well, well, well. Call of Duty: Black Ops is making a serious, serious push to take the Douchebag Extreme Mantle, by offering a functionable RC car with their Black Ops Collector's Edition.
With a range of up to 200 feet, the RC-XD surveillance vehicle is a fully-functioning RC car that features — wait for it — a remote camera that transmits TFT color video and audio. It's inspired by the surveillance car that will appear in the game's multiplayer, as seen in the recent teaser trailer.

The "Prestige Edition" will also ship with everything you'll get in the "Hardened Edition," including a Black Ops limited edition medal, a Black Ops Avatar outfit (for Xbox 360), and four additional cooperative maps.
If you buy this, you're a douchebag. But let's be clear, if it were the right franchise (Mass Effect, Fallout), I'd be a douchebag too.