Want A Preview of Thor #615? The Fraction/Ferry Jump-Off? OF COURSE YOU DO.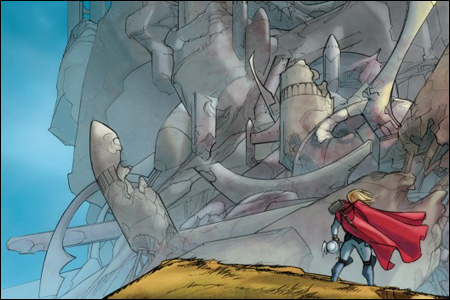 As I've mentioned probably too many times by now, Matt Fraction and Pasqual Ferry are taking over the Thor mothership this Fall on the titular comic. And I reckon there ain't nobody round these parts that is as excited about it as I am. In fact, should they sell out of the issue before I get to the comic book store that week, there will be left only cinders and perhaps the Lara Croft stand-up where once laid a peddler of graphic novels and cheesy t-shirts.
In an effort to send me into absolute glee, Marvel has dropped some preview pages from Thor #615, which I found over at Comics Alliance. Hit the jump to check out the gorgeous artwork, and contemplate how far away September seems.