[Interview] The Alaya Conscious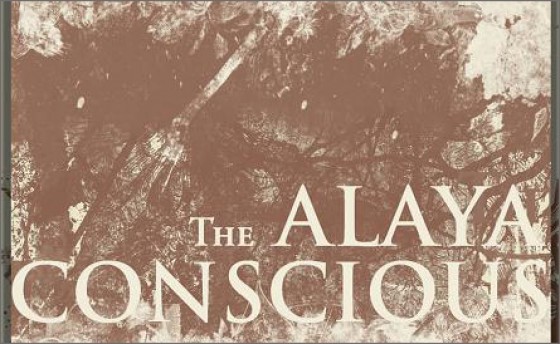 There is nothing in this world quite like good music. Don't get me wrong, I'm a fan of all media, but good music inspires me in a way that television, comic books, and even movies just don't. I haven't studied sociology or anthropology or any such shit, but I'm thoroughly convinced that music taps into some sort of primordial, tribal pleasure center of human beings. As though, in a sense, it might be one of the few comment elements that every member of Team Human can enjoy.
Whoa. Looks like I've tossed aside the cynic cap and fastened on my hippie helmet.
As with any art, what I look for and most value is that intangible, unquantifiable sense of authenticity. At one end of the spectrum are those artists who truly do whatever the hell they damn well please, fulfilling only the personally desire to create. At the other end are those who are so manufactured and bogus that even the drooling masses can't stomach `em indefinitely. They are, essentially, well-crafted products of a well lubricated machine. (Ah, there's my cynicism!)
But the best creators are those who combine heightened prowess with a genuine passion to create something that is both palatable and challenging. A work that makes the listener say, "Well, I never really thought of that before, but it's damn tasty!" There can be a balance of emotion and expertise.
This, my friends, is exactly the case with The Alaya Conscious.
Always on the prowl for new tunes, a couple of friends of mine told me about this Chicago-based trio. After listening to borrowed copies of the band's two releases, I immediately sought them out so I could toss them some cash.
To my surprise, it appears as though these guys are (relatively) low-key. Which is a damn shame, given the fact that their music is seriously the best stuff I've heard all year. I ravaged their Myspace,  Facebook page, and as many YouTube videos as I could get my hands on.
Eventually, I just decided to buck up and ask the dudes for an interview. After all, part of the goal here at OL is to help those artists we adore get the recognition they deserve. So without further adieu, nine questions with The Alaya Conscious…
+++
1. Who are the members of The Alaya Conscious? Who plays what?
The Alaya Conscious is:
Evan Dunn – guitars/vocals
Mike Rinkenberger – bass/vocals
Dave Robison – drums/vocals

2. Briefly (or, if you prefer, thoroughly) take us through the formation and history of the group.
The band has always been three best friends looking for a way to create the best music possible. We have stumbled along the way searching for the correct "formula" but we are finally getting into a natural swing.

3. How would you describe The Alaya Conscious? While you probably don't want to be pigeonholed into any one genre, are there any you want to be associated with?
We're not afraid of genre labeling, and we're proud to be part of the "progressive" music… ummm… club. Seriously call us whatever you want, we just hope our music hits you in some way.

4. So as far as I can tell, you guys have two releases (available for purchase here) — Seventy One Percent and Red. Both of these collections are positively riff-packed, filled to the brim with tasty lick after tasty lick. Was this a conscious decision or did the tracks just happen to evolve this way? Were you taking advantage of the fact that (as instrumental albums) you didn't have to worry about working in vocals?
The first record was actually written and recorded with a vocalist who had complete parts for each track. We even played a couple shows with him before deciding we could go no further down that road. But yeah, we decided to release it as an instrumental record anyway because we thought maybe a few people would like our obnoxious riffitude. The second record kind of just happened. We were inspired with a concept and followed it. But since we're all music nerds we had developed a tendency to fill the songs with the most riffs we could justify and be happy with. The new full length will be a more focused effort with vocals… Every note is getting scrutinized and there will be tons of riffs. The guitar and vocals are being written together in order to avoid sounding like there isn't room for one or the other.

5. The opening track to Seventy One Percent is titled Detective Mills — can I assume this is a Se7en reference? Again, with instrumental albums, how do you decide on the track names? Any interesting stories behind the titles used?
Yeah, we love horror films. The songs on 71% are all obscure references because the names had to change with the loss of our vocalist. Red is named after a good friend of ours who inspired us with his unbelievable tree climbing skills and total absence of fear. The new song titles AND lyrics are all based on our favorite horror films. There will be a contest to see if anyone can accurately identify all of the corresponding films. Yeah, we're nerds.

6. Between Seventy One Percent and Red you guys really run the musical gauntlet; rock, jazz, funk, metal, pop, progressive, virtuosic playing — it's all represented. Either as a band or individual members, what are your influences? Do any albums/artists speak to you more than others?
We're inspired by anything with any merit. Strong melodies, thoughtful arrangements, brutal death metal… We are constantly showing each other new artists and bands and trying to take away from it what we can. Among the bands' favorites are (seriously) Yanni, Coldplay, Jimmy Eat World, Bahamut (CHECK OUT THIS BAND), Oingo Boingo, Meshuggah, etc…
7. What are the current plans for The Alaya Conscious? On the other side of the coin, what are your long-term goals as a band?
Our current and long term plans are simple. Write, record, tour, have fun doing it.

8. Anything you'd like to plug? Shows/Merch/Releases/Personal Triumphs?
Yes, we're playing at the Beat Kitchen in Chicago on June 5th with Yakuza. Expect new songs at this one.

9. Lastly, what're the chances of seeing The Alaya Conscious on tour? What would I have to do to get you to the Boston-area?
I love Boston, I played at the Middle East with KidNapKin while on tour in my other band Damiera. Awesome city, and KidNapKin was amazing. Believe me, WHEN we tour we're going to Boston. Uh, can we sleep on your couch?
+++
The obvious answer, of course, is duh. When The Alaya Conscious makes it to Boston you'd damn well better bet that I'm going to show them a good time.
I'm not going to describe them, as any attempt would fall short. Watch; Kinda like the melodic BTBAM stuff, but with a jazzy edge, and a real penchant for grooving. Ugh. Trust me, just check `em out on your own.
And if the premise of their upcoming release, an album full of tunes about horror flicks, then I don't think you're down with cool shit.