Sam Humphries Taking Comics To 'Higher Earth', Space Beastiality?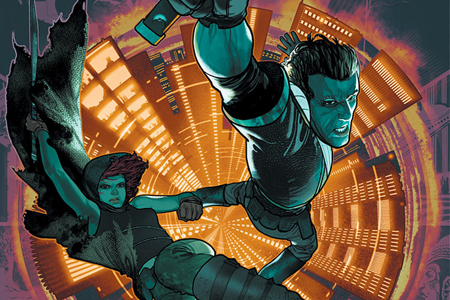 Sam Humphries has been on my radar since his one-off Our Love Is Real  was plugged by a wonderful OL regular. This may very well be the year the dude explodes onto the scene – fucking deservingly – with a myriad of projects. The latest announced is Higher Earth.
When the final frontier proves to be a desolate wasteland, mankind turns its sights toward exploring — and conquering — a different sort of territory: alternate Earths. "Higher Earth," written and created by  Sam Humphries  with an artist to be named later, takes place in a universe of interconnected Earths, with many falling under the empire of the titular throne world. The series is ongoing from  BOOM! Studios  beginning in May.

The announcement of "Higher Earth" follows several other high-profile projects for Humphries, including"Fanboys vs. Zombies"  at BOOM! and  "John Carter: Gods of Mars"  with Marvel; the writer rose to prominence last year with his highly successful self-published one-shot  "Our Love is Real"  (later reissued by Image Comics) and the third issue of  "Sacrifice,"another self-published mini, is on sale now. Comic Book Resources spoke with Humphries about the concept of "Higher Earth," alternate universes and taking a creator-owned book to BOOM! rather than going it alone.
I can't fucking wait. Within the interview it goes on a very metaphysical-multiversical-science-fictional vibe. Fuck yes to the Sam Humphries. (Go buy a reprint of Our Love Is Real already.)