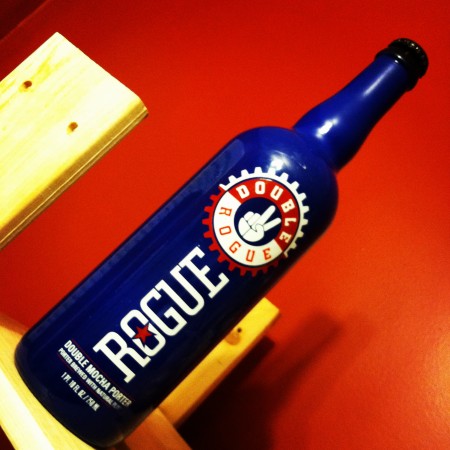 In my most cherished fantasies, I'm a member of Rogue Squadron. That's right, if you see me crashing into the mailbox during a mid-drive daydream, I'm probably imagining myself nosediving into the Death Star's exterior. As the suburban townsfolk yell and scream and cry in the hopes of getting my car off of their lawns, I can only hear Biggs and Wedge and Porkins egging me on. The cops throw down spike strips, and my tires blow out, and all I do is turn up the radio and mutter, "Stay on target."
It's this wonderful hallucination of being a bad-ass space-rebel that helps me cope with the fact that I'm nothing more than a sci-fi lovin' scamp of a man.
Also helping me get through the ennui of my regularly-scheduled quarter-life crises is beer. Sweet, bitter, dark and fizzy beer. On Fridays I make a point to try a new beer, thereby expanding my palate and giving me a deeper basis-for-comparison well.
Tonight, I'm combining my yearning for intergalactic adventure and beer-lust by sipping on the Rogue Brewery's Double Mocha Porter.
What first drew me to this brew was its gigantic blue container. Seriously, take a look at the photo above and try to tell me that there isn't something appealing about it. With a single prominent color, one might be inclined to see it as understated. But when you step back and look at it amidst a slew of the standard brown and black bottles of Beerdom, Double Mocha Porter pops out like a slick muthafuggah.
Like a Smurf-Giant wreaking havoc on the hillside.
As part of my pre-drinkin' tradition, I hit up Rogue's website to see what brewery has to say about its concoction. According to Rogue, this potable can be described in the following terms:
Double Mocha Porter is a huge mouthful of malt and hops, with notes of bitter rich chocolate. This porter is the creme de la creme.
Hrm. Not much to work with. So let's just drink.
Double Mocha Porter is great in that it touts a robust bouquet as well as a light mouthfeel.Yes, even before considering the flavor of the liquid, it's an enjoyable treat. This is a beer that goes quickly down the throat, bathing the nose in absolute sweetness along the way.
So how does this porter taste? Well, at first it leaves   a creamy, chocolaty impression on the tongue. After swallowing a slight bitterness rears its head, and is then followed by a tinge of alcoholic vapors. The near-saccharine quality is paired with a grounded aftertaste, thus making for a   commendable potion. The aficionados will anchor themselves to the essence of fermentation, the casual brewsters will high-five the chocolate aspect, and the aspiring snobs will declare, "Ooh, what a wonderful mocha experience!"
You dig dark draughts? You want candied-inebriation? You crave a brew to wash down on a crisp autumn evening? Want to be a cheap imitation of a badass while you drink beer and try to bang out a beer review for your blog?
Look no further than Double Mocha Porter.
The grade: B+