John Goodman To Join Cast For Coen Brothers' 'Inside Llewyn Davis'. OVER THE LINE.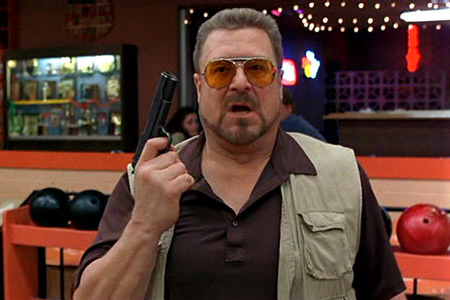 John Goodman has held it down with excellent performances in more than one Coen Brothers movie. My favorite, of course, as Walter from The Big Lebowski. The Goodman-Coen Brothers synergistic wunder isn't ending yet, either.
Reading the comments on the piece that ran this weekend, I guess a lot of people aren't happy with the fact that Justin Timberlake is likely to be cast in Joel and Ethan Coen's new film, Inside Llewyn Davis. I don't really get that – the Coens have shown almost purely impeccable taste in casting throughout their career, and I'm not going to start questioning them now.

Regardless, this current news should be a lot easier for long-time Coen fans to appreciate. John Goodman is strongly rumored for a role in the film, which would make this his fifth collaboration with the Coens after Raising Arizona, Barton Fink, The Big Lebowski and O Brother, Where Art Thou?. (Or sixth, if you count his small role as a newsreel announcer in The Hudsucker Proxy.)
Fantastic.