'Banksy of Bulgaria' Turns Statues of Russian Soldiers Into Superheroes.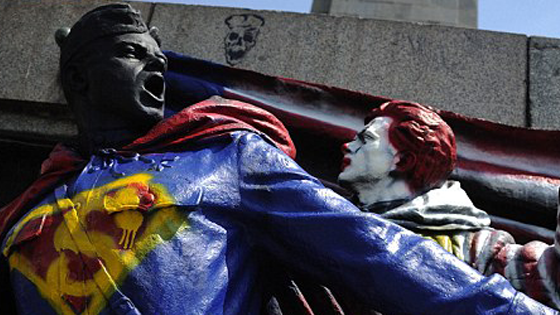 There's a good lad with the nickname  Banksy of Bulgaria. Said Bulgarian Banksy recently turned "Russian Red Army soldiers from a monument in the city of Sofia, in Bulgaria, into popular superheroes and cartoon characters."
Pretty rad, if I suppose, vandalistic stuff.
Hit the jump for pictures and details.
Taking centre stage is Superman with his distinctive red cape and blue suit. To the left is Santa Claus and to the right Ronald McDonald, the mascot of the fast-food giant McDonalds, and the Joker also makes an appearance.
Below the graffiti artist has sprayed "Moving with the times" in Bulgarian black paint. The "artistic vandalism" appeared this morning – but it is still not clear who is behind the colourful display.