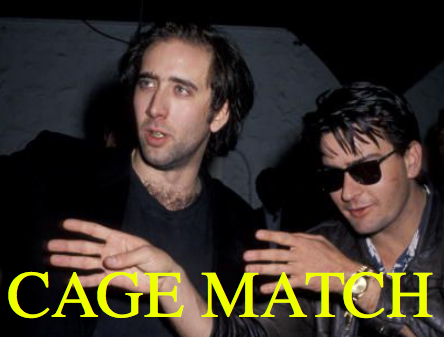 Take off your shoes and step into the Cage. We're coming at you a couple days late this week. Partly because of the holidays, partly because I had a large writing order to fill for another site. In all honesty, I had a debilitating stomach virus Tuesday-Wednesday that had me living in a bathroom and surviving off of saltines. It was most heinous. But we're back with the final Cage Match before 2011. Thank you for taking this trip with us, you swine.
I wish there was more news to spill into your laps this week, dear readers. But after his outburst in Bucharest, it seems Cage is laying low and keeping his real life activities limited to buying Marvel action figures. Wait…that's awesome! Let's go!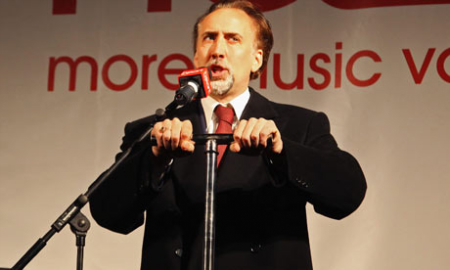 Cage Scoops Up Some Marvel Figures in Weston
On Monday, The Weston Mercury reported that Nic took advantage of those sweet after-Christmas sales by picking up some Marvel action figures at Lloyds Toys and Models. Man, that image in my head is so so awesome. I bet they're not even for his son, aptly named Weston. He probably won't even let Weston look at them.
Cage was also seen shopping at a couple cell phone stores. But I know what that's all about. You hit a certain age and you have to balance out action figure purchases with "adult" purchases. For every R2D2 I buy I balance it out with a shower curtain or bird seed. I hear ya, Cage.
The above picture is from when Cage lit the Christmas lights in Bath. I just really like it.
Cage Taking Shrooms With His Cat Makes TV Squad's List of Best Oddball Celebrity Talk Show Appearances
Above is what I call Cage's "Reset Face." It's the face he makes when he "resets" and gets ready to spit another completely hilarious/ridiculous story. Back in July Cage appeared on Letterman and recounted the days when he used to take magic mushrooms. Supposedly, his cat Louis used to sneak into the fridge (how?) and eat his mushrooms. One day Cage decided to take them with Louis and explore each others psyche.
Cage's thought-provoking story made it onto TV Squad's list of Top 5 Oddball Celebrity Talk Show Appearances. Check the video below and relive the magic of "Hiiiiiiii."
Like Caffeine Powered once said, it's like his life is a performance art piece and he's the only one who knows it.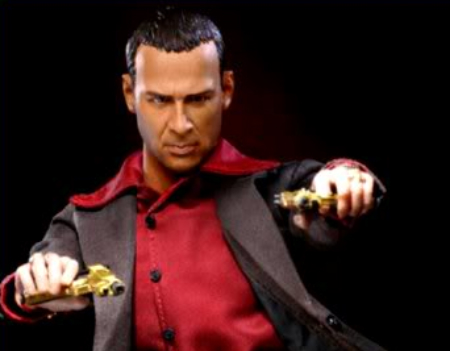 Custom Made 1/6 Scale Castor Troy Action Figure For Sale on eBay
Ever wanted to own your own miniature freelance terrorist? Now your dreams can come true with the Castory Troy custom action figure from eBay seller "figure-mario." It kinda looks like Nic Cage, but the slack resemblance is made up with a ton of accessories: priest outfit, "soft" face mask, cigarettes, pills, gold pistols and watch, and an interchangeable Travolta head.
I Watched "Kiss of Death"
Somehow. SOMEHOW I didn't know this movie existed. It's a 1995 remake of the 1947 noir of the same name. It stars Samuel L. Jackson, David Caruso, Michael Rapaport, and CAGE. It is made watchable solely by, you guessed it, Cage's batshit performance as crime lord Little Junior Brown. We all know he's a genius – an actor who is at his best when he's allowed to go off the hinge – so any movie that gives him that breathing room is worth watching.
Trailer below featuring more Cage awesomeness:
Thanks for joining us this year, folks. There's plenty in the world of Cage to be excited about in 2011: Season of the Witch, Drive Angry, Ghostrider 2, Trespass, and Medallion. The Hungry Rabbit Jumps is supposedly done filming and there was a screening in CA, but Lord knows what's holding up its release.
Happy New Year, mutants. Have a fun and safe one.