Monday Morning Commute: By Saturn's Rings!!!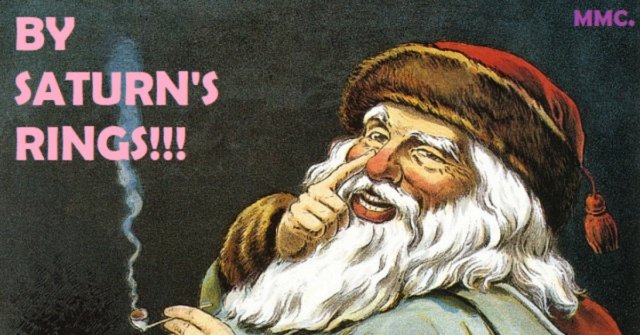 Y'ever celebrate Christmas? Or Hanukkah? Boxing Day? Kwanzaa?
I'm bettin' y'have, Dirt-Foot.
But what about Saturnalia? Y'ever get blasted on wine and orgy-bang until swollen and then check out a human sacrifice?
`Less I'm gettin' y'ears through a time-tunnel, chances're that y'never bowed before Saturn.
That, said, let's s'pose y'actually have celebrated Saturnalia – where'd'y'do it? Poor folks, likely in a hovel w'rats scurryin' in'n'out? Moneybags 'mongst'ya, in th'actual Temple of Saturn?
That's purdy cool.
But me? Where'm I celebratin' Saturnalia this year? What'd'y'say if I told'y'that my mission brought me to Space Station Cronus, and I'm orbitin' the sixth planet from the sun? What'd'y'say if I told y'that the boys already been loadin' up on cheap terra-wine? What'd'y'say if I told y'that everyone chipped in to get a live-stream of the day's NFL games and we're aimin' to gamble our ways into fortune? What'd'y'say if I told y'that we convinced Doc to order them good prescription horny-pills and we're aimin' to stink up the joint as we slide against each other?
What'd'y'say if I told you that even in the future the parties of the past prevail?
Well, if I was you – well, goddamn, I'd say "Happy Saturnalia, y'old son of a bitch!"
—-
Welcome to the holiday edition of MONDAY MORNING COMMUTE!
Now that you've read some of my sci-fi nonsense, it's time to discuss what we're all doing this week! Let's share strategies for having a good (Yule) time!
I'll start!
—-
Murdering LOBSTERS and using their flesh to feed my family!

—-
Re-Reading SHADOWS OF THE EMPIRE by Steve Perry!

—-
RACING BABY NEW YEAR in the hopes of achieving my 2018 resolution of watching 100 movies I've never seen before. (Not the movies in the video below.)

—-
Legit? Just trying to SLEEP as much as possible.

—-
So there you have it — (some of) what I'll be doing this week!
What're you up to?!