'Stranger Things' Season 3 Teaser: Back At It, At the Food Court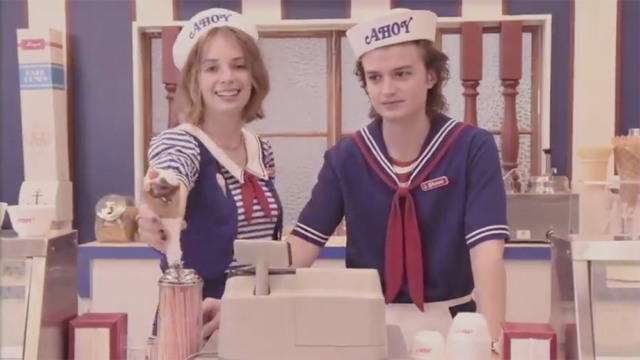 Stranger Things season 3, the follow-up to the shit-ass Stranger Things season 2, now has an official teaser.
Netflix has delivered a treat for "Stranger Things" fans, releasing a teaser video that appears to set up some developments in Hawkins, Ind., for Season 3 of the sci-fi drama series.

The 90-second video heralds the arrival of the Starcourt Mall — "one of the finest shopping facilities in America and beyond" — in the fictional Indiana hamlet. The promo video is full of 1980s mall-culture references, from the vintage logo for retailer to Gap to a shoutout to the now-departed bookstore chain Waldenbooks and music retailer Sam Goody. The teaser depicts the character of Steve Harrington, played by Joe Keery, as working in the Scoops Ahoy ice cream shop in the mall's "state of the art food court."

The presence of Bruce Springsteen's "Born in the USA" album in the Sam Goody's window and the Tom Clancy novel "The Hunt for Red October" in the Waldenbooks window pegs the time frame of Season 3 as 1984. The promo video hails Hawkins as "a growing patriotic community and a shining example of the American Dream," which seems a nod to the current political climate.

The reference to mall developer Starcourt Industries suggests a new corporate menace could be coming to the town that has already been rocked by the activity at the mysterious Hawkins National Laboratory. The video also promises the mall is "coming next summer," which may be a hint to the launch date of Season 3.

Season 2 of "Stranger Things" bowed last year on Oct. 27. The series last week grabbed 12 Emmy Award nominations, including its second bid for best drama series and supporting acting noms for stars David Harbour and Millie Bobby Brown.
Ahoy! Something is coming… to Hawkins, Indiana! pic.twitter.com/BI4wFRVzvB

— Stranger Things (@Stranger_Things) July 16, 2018