Lando Calrissian could get his own 'Star Wars' spin-off movie some day, says Kathleen Kennedy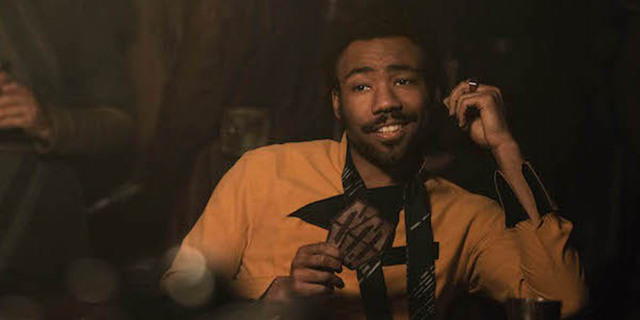 Kathleen Kennedy, Chief Czar of Lucasfilm, has come out and said that Lando may one day get his own Star Wars spin-off flick. As contradictory as it is for me to champion this idea, fuck it, I'm going to! I know, I know. Typically I bemoan the franchise for not striking out into new territory. But! It's Lando! It's Donald Glover!
Update: A Lucasfilm rep Polygon that Kennedy's quote was mistranslated. Kennedy said a Lando spinoff is "something she'd like to do one day in the future," but isn't the next movie per se. The news was first reported by io9.

Original story: Donald Glover's Lando Calrissian is unquestionably one of Solo: A Star Wars' best characters.

He's so good, in fact, that Lucasfilm president Kathleen Kennedy is teasing a Calrissian spinoff. Kennedy told Premiere Magazine that the next Star Wars anthology stand-alone film will focus on Calrissian, but didn't say whether Glover will return to reprise the role.

"We think that the next spinoff will be dedicated to Lando Calrissian," Kennedy told Premiere. "Of course, there are still many stories to tell about Han and Chewbacca but Lando will be next."

It's also unclear if Lando will receive the same treatment as Alden Ehrenreich's Han Solo. Ehrenreich told Esquire magazine in April that he signed on for two more Han Solo movies. Glover isn't confirmed to appear in those films at this time, but as Kennedy said, Chewbacca will definitely return alongside his scoundrel best friend.

Solo, the second stand-alone anthology movie in the Star Wars franchise following 2016's Rogue One, received divisive criticism this week. We called the film a definitive summer movie, praising both Ehrenreich and Glover for their performances.

Solo: A Star Wars Story will be released on May 25.