Monday Morning Commute: Face-Smashed Freedom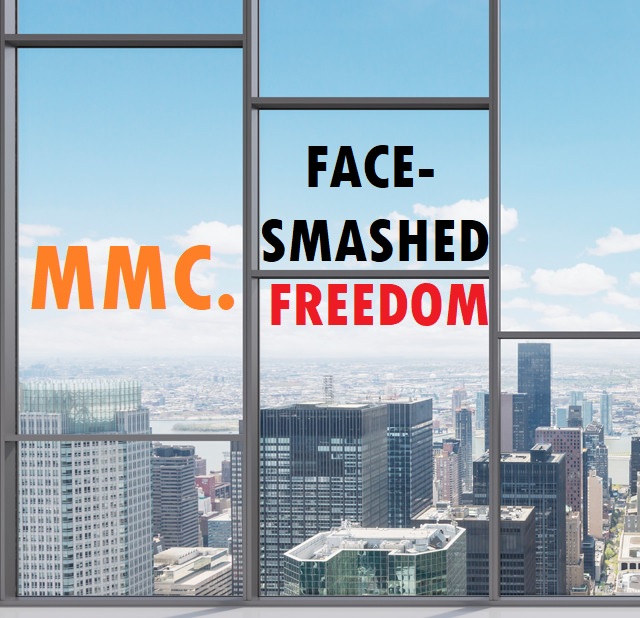 Smash your face through the glass.
Don't resist. Why resist? Because you think there's another way out? Because you think that someone will come to save you? Because you think the robot sent to murder you would rather have a smoke break instead?
There isn't. They won't. It wouldn't.
So with your arms tied behind your back and that glass window the only means of egress at your disposal, you've only got one viable option. You've got to smash your face through that fucking glass, projectile yourself through the jagged shards, and pray to Baal that you don't fatal-nick any of your precious heart-tubes.
But if you pull it off, you'll be staved. Not saved — `cause no who's been targeted by one of those clunky metal fucks gets away forever – but staved. And don't give me any shit about the "you" not being the direct object or that it's "the inevitable" or "your demise" that's been "staved off," because I know what the fuck I'm going for here.
Anyways, I hear the gears and whirrings of a Kill-Bot coming. So, what're you going to do? Accept your doom or fight for a few more minutes of possibility? What do I suggest?
Smash your face through the glass.
—-
Welcome to the MONDAY MORNING COMMUTE!
Now that you've survived a worrisome bit of drivel-fiction, it's time to share the fun stuff we'll be doin' this week! What're you puttin' into your brain so that it lights up? What's the rock that you'll be rollin' to get through the workin' days?
Let's go!
—-
More than anything else, I'm amped to see BLACK PANTHER!

—-
Crossin' off an old bucket list item by gettin' a SIDE-GIG AT A BAR!

—-
Revisitin' an old favorite – rockin' KING FOR A DAY…FOOL FOR A LIFETIME!

—-
Honoring my comedy-fan duties by (finally) watching VEEP!

—-
Blastin' FKJ, TOM MISCH, and the collaborations between the two!

—-
So that's my week — what's yours lookin' like?