'Star Trek: Discovery' is getting a second season. It continues to, like, live long, and yadda blah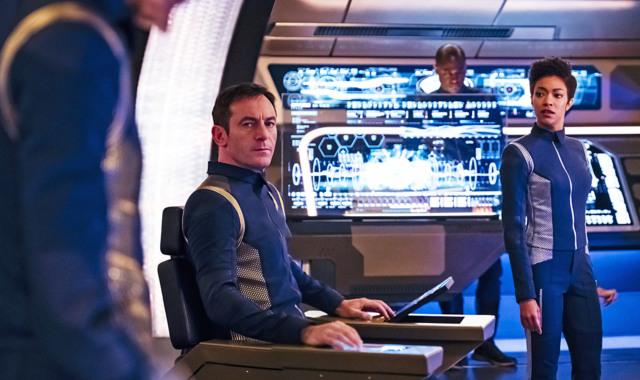 Star Trek: Discovery is getting a second season, friends! I honestly don't know how people feel about the show, and I'm not watching it myself. But! I hope this excites a lot of people. Genuinely.
Midway through its first season, Star Trek: Discovery has been renewed by CBS All Access for Season 2.

Set a decade before the events of Star Trek: The Original Series, the franchise's television revival centers on Michael Burnham (Sonequa Martin-Green), the adopted sister of Spock who's actions helped to trigger a war between the Klingons and the United Federation of Planets. The first member of Starfleet to commit mutiny, Burnham is sentenced to life in prison, only to be given a second chance of Gabriel Lorca (Jason Isaacs), the enigmatic captain of the Federation's secret weapon, USS Discovery.

"In just six episodes, Star Trek: Discovery has driven subscriber growth, critical acclaim and huge global fan interest for the first premium version of this great franchise," Marc DeBevoise, president and chief operating officer, CBS Interactive. "This series has a remarkable creative team and cast who have demonstrated their ability to carry on the Star Treklegacy. We are extremely proud of what they've accomplished and are thrilled to be bringing fans a second season of this tremendous series."

Discovery premiered Sept. 24 on CBS and CBS All Access, setting a new record for subscriber sign-ups on the digital platform. The first season will air as two chapters, with the first ending Nov. 12, and the second, containing the remaining six episodes, launching in January.