Rihanna and Lupita Nyong'o *are* starring in that buddy movie that started as Twitter meme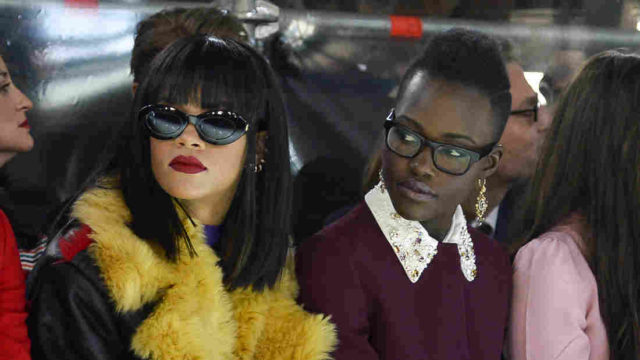 The future is fucking wild, man. A Twitter used proposed the idea for a buddy movie starring Rihanna and Lupita Nyong'o, based on an image of the two together. Now, now that pitch is being turned into a fucking movie, and it's being directed by directed by Ava DuVernay.
After a dramatic negotiation session at the Cannes Film Festival, Netflix has nabbed a film project pairing Grammy winner Rihanna with Oscar winner Lupita Nyong'o, in a concept that began as a Twitter sensation. Ava DuVernay (Selma) will direct, and Issa Rae (Insecure) is writing the screenplay.

According to sources, Netflix landed the project in a very aggressive bid, beating out multiple other suitors. Netflix had no comment.

The project began as an online meme when the photo below — a shot that was taken in 2014 of the two women in the front row of a Miu Miu fashion show — went viral, prompting calls to turn it into a movie.

witter users went so far as to ask for DuVernay (who is in post-production on A Wrinkle in Time for Disney) to direct, with Rae (whose second season of HBO's Insecure will debut on July 23) to write. Soon after, all four women pledged their support to the project on the social media platform.

Sources say Rae is already working on the script and the studio is eyeing a production start of 2018 after DuVernay completes her current film.

The news comes at a time when Netflix is already a big topic of conversation at Cannes. The festival came under fire when it booked two Netflix premieres — Bong Joon-ho's political fantasy Okja and Noah Baumbach's family drama The Meyerowitz Stories (New and Selected) — even though the streaming service had no plans to debut the films in French theaters. The controversy continued when Cannes jury president Pedro Almodovar said last week that films without cinematic releases should not be considered for prizes. (Both Okja and Meyerowitz are competing for Cannes' top prize, the Palme d'Or.) The news continued when the Okja premiere was marred by technical glitches and boos from the audience. Yet once the film, which initially screened in the wrong aspect ratio, was restarted, audiences settled in and praised the ambitious movie with a four-minute standing ovation.

Meyerowitz, which Netflix scooped up a couple weeks before the start of Cannes and stars Adam Sandler, Dustin Hoffman and Emma Thompson among many others, also debuted to a warm reception on Sunday.