Monday Morning Commute: Creation-that is the great redemption from suffering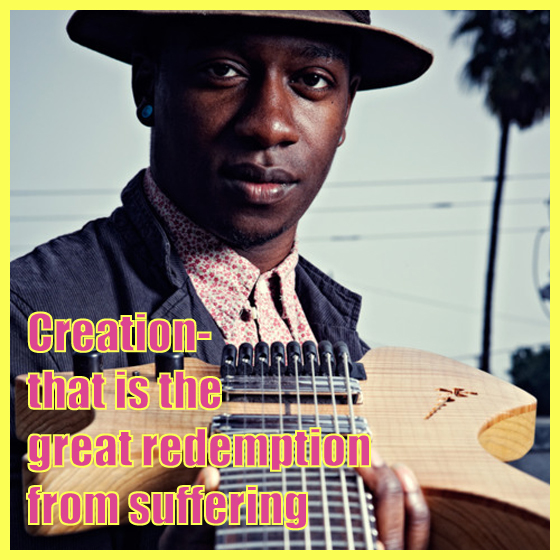 It's Monday! Which means a Morning Commute. How did mine go? Well — I was rear ended for the third time in two years as I drove on I-93 South towards UMass Boston. People! Look up from your fucking phones. I beg you. My spaghetti-brain begs you. My consistently whiplash'd neck begs you. I hope, I pray to the Old Ones, that your commute was better than mine. The only perk? The Immediate Migraine and Sore Neck meant I got to go home. Though after thinking about it, a day of lost wages and suffering doesn't seem like fair trade for a Monday on the couch. Eh. Whatever!
This column serves as the Fulcrum through which we Pry Open the Work Week together. We gather here, sharing what we're looking forward to during the next five-or-so days. The various books, television shows, dinners, movies, meals, mind-thoughts, and assorted shite that we glom on to, praying that our anticipation for them is enough to lift us out of the Doldrums of being privileged enough to have a job in this economy.
Here's my list! Share yours afterwards.
—-
This week sees the release of another Mission Impossible flick. Like spy flicks, I'm a total mark for this franchise. It doesn't have to be transcendent, it just has to help me transcend my life's problems for 2.something hours.
—-
I want to get some serious Sleeping Dogs playtime in this week. Jerkface wasn't fucking around, this game is a fun romp through a gangster sandbox.
—-
Rendar and I watched Logan's Run on Saturday. What an odd, completely 1970s science-fiction musing.
—-
I'm trying to break away from Entitlement Culture and support those who bring me enjoyment. A latest example of my genuine struggle is my support of Red Letter Media's Patreon. Those dudes have made me laugh, and think, and laugh-think for five+ years now. Why shouldn't I help support their endeavors? Our culture is weird. We want all these endeavors, these works of effort and time and space and love for free. I mean — Patreon accounts are predicated on giving you more if you help support the creators. As if whatever content made you fans of them initially weren't worthy of your money. Odd shit.
But whatever the case, I'm throwing them $8 a month.
—-
Speaking of Logan's run, goodness me is Farrah Fawcett-Majors a bombshell in the movie.
—-
Review starts back up this week. Fuck yes.
—
SAM-OMEGA boxed up all my books for the move next week. This means that when I finish At The Mountains of Madness, I shant be taking my break from the Lovecraft Anthology as I had planned. But rather, I shall continue poring over the Mad Man's Cosmic Horrors.
—-
Always, always, always listening to Animals as Leaders. Can't stop. Won't stop.
—-
Don't forget that the Wet Hot American Summer Prequel mini-series is hitting Netflix this week! Don't fuck up!
—-
That's uh. That's all my Concussed and Rattled meat-processor can think of right now. What are you up to this week?