Monday Morning Commute: (Sgt.) Slaughter of the Soul!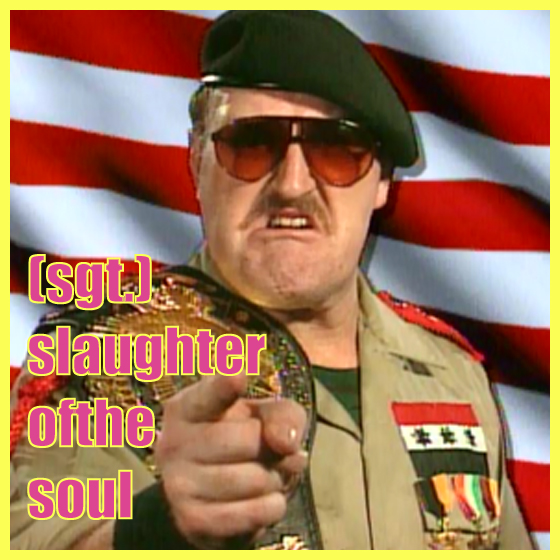 Happy Memorial Day to ya'll living within the Empire! As a child, most of my worldview was shaped by the World Wrestling Federation. And to be honest, I'm almost positive I'm better for it. And one thing I learned is that those who turn their back on their country are thick-jawed, dastardly pieces of shit. (Like Sgt. Slaughter.) Don't be a Sgt. Slaughter. Give big ups to those who have served in a moment of fleeting, momentary clarity. And then go about your proper Imperial means of celebration. Charred animal flesh. Excessive drinking. Maybe a jingoistic, statistically inaccurate proclamation about Whatever You Really Like In America.
When you're done! Join me here at Monday Morning Commute. Where we share what we're looking forward to in a given week, or maybe something of particular dopeness we want to share with the rest of the Space-Ship.
—-
Going to see Mad Max a third time today.
With Papa OMEGA. No doubt his ass-hairs
will be blown off.
—-
I'm going to crack open Binary Domain
this week. I've been (sort of) looking
for any sort of sci-fi gaming goodness.
Got a game you could recommend?
—-
Speaking of science. More than one person
has recommended Halt and Catch Fire. So I'm
going to dominate the first season before s2's
premiere this Sunday.
—-
Speaking of this weekend. It's my Bachelor Weekend.
Going down in Portland, Maine. I'd say pray for me —
but I'm the mild one. Pray for Rendar and Riff.
Maybe Pluto, too.
—-
Bateman and I watched
five hours of Lucha Underground this weekend.
Fucking glorious.
—-
Run The Jewels baby! Please don't delay me.
—-
That's it for me! Should anything else strike, I'll drop it in the comments. How about you? What are you anticipating this week?