'Metal Gear Solid V: The Phantom Pain' dropping worldwide on September 1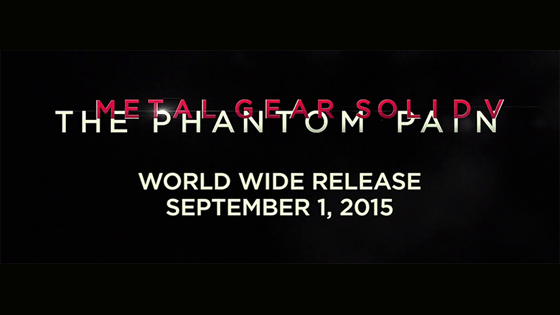 Whoops! Looks like a video leaked of Hideo Kojima confirming an MGSV:TPPLMNO release date of September 1, 2015.
Metal Gear Solid 5: The Phantom Pain will be released worldwide Sept. 1, according to avideo hosted by IGN's Italian affiliate that was discovered today by NeoGAF. Series creator Hideo Kojima himself appeared in the video to announce the launch date.

Konami had put up a teaser on the game's website earlier this week to promote an announcement set for 9 a.m. ET tomorrow, March 4.

Kojima, speaking through a translator, said developer Kojima Productions is "putting the finishing touches" on The Phantom Pain. The game is in development on PlayStation 3, PlayStation 4, Windows PC, Xbox 360 and Xbox One. It's unclear at this point if it will be released simultaneously on all five platforms.

The project was originally unveiled during the 2012 Spike Video Game Awards as The Phantom Pain, and was subsequently revealed to be Metal Gear Solid 5. Kojima Productions released Metal Gear Solid 5: Ground Zeroes, a prologue to The Phantom Pain, last March.

We've reached out to publisher Konami for comment, and will update this article with any information we receive.

Update: IGN Italia has since taken the video down, but we've saved a screencap for you of the release date. Check out the image below.

Update 2: In the video, which is a seven-minute interview with Kojima, he described the Snake character as "nothing more than an extension of the player," and said that he "made a very conscious effort this time to bring Snake closer to the player's perspective."

To that end, Snake — who is voiced by Kiefer Sutherland rather than David Hayter inMetal Gear Solid 5 — won't speak much in The Phantom Pain. Said Kojima: "Snake himself will be more of a silent protagonist, similar to Mad Max and Mad Max 2. It's the characters around him who will expand the story."
Looks like the Fall is kicking off with a titanic release. Works for me.