Bethesda holding first ever E3 Conference this year. 'FALLOUT 4' OR F**KING BUST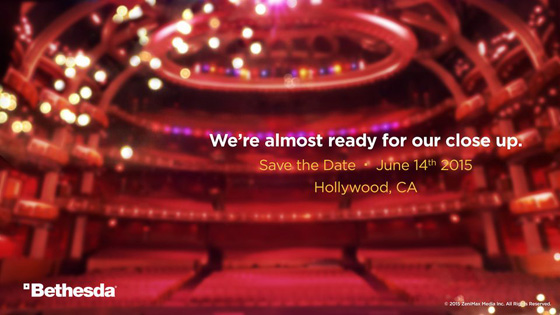 Bethesda. Just. Just let me fucking tell you. If you're holding an E3 conference, for the first time ever, and it isn't to announce Fallout 4. Just. Just expect a dude clad in his own used underwear and painted in his own DNA to rush the stage. Hint: that dude is me.
Bethesda Softworks will hold its first ever E3 news conference this year, the publisher announced today, which likely means it has big news to reveal from the industry's biggest expo.

Bethesda gave no other details, of course, in setting the date (June 14). What might Bethesda be talking about at this event?

• id Software is working on the long-awaited Doom (originally called Doom 4) and a beta for the game will be coming soon.

• BattleCry, a free-to-play online game coming from the newly formed Battlecry Studios of Austin, Texas, also is in the works and should have news at this event.

• Arkane Studios is the home of Dishonored and has two offices. Though a Dishonored sequel is unconfirmed, it's widely believed to be in the works. Prey 2, however, is officially dead, so Arkane is not working on that.

• The Elder Scrolls Online will be renamed The Elder Scrolls Online: Tamriel Unlimited and finally launch on PlayStation 4 and Xbox One on June 9 — five days before this news conference. So this franchise probably won't have anything new to announce.

• Likewise, Machinegames launched Wolfenstein: The New Order in May, and may not have any project to be announced.

After all that, the elephant in the room is a full Fallout sequel, following 2008's massively successful Fallout 3. Rumors have persisted that such a game is under development, though Bethesda has confirmed nothing. Bethesda Game Studios developed Fallout 3 and that studio's last release was the also massively successful The Elder Scrolls 5: Skyrim, in 2011.

Bethesda will livestream its news conference via Twitch, and will later announce details for how fans can register to attend in-person.
Just. Just please.