Sony sells Sony Online Entertainment, them folks behind 'Everquest'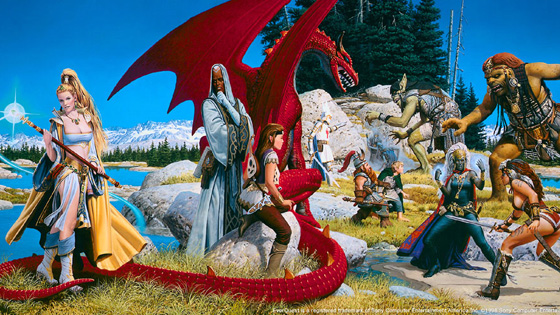 Sony has sold the branch of their company that produced, most importantly, The Matrix Online. And some other game called Everquest or some shit. The rebranded company is getting OBVIOUS METAPHOR AS FUCK and renaming themselves Daybreak Game Company.
Sony Online Entertainment has been acquired from Sony by investment management firm Columbus Nova, according to an announcement by a member of the company on Reddit. The publisher, responsible for massive multiplayer online role-playing gameEverquest, has been renamed Daybreak Game Company, shedding its Sony branding altogether.

"This name," says Reddit user SOE_Legion, "embodies who we are as an organization, and is a nod to the passion and dedication of our employees and players. It is also representative of our vision to approach each new day as an opportunity to move gaming forward.

Sony Online Entertainment has had a rough few years, with a handful of MMOs tied to expensive intellectual properties that failed to meet the grand financial expectation of the genre, including Star Wars Galaxies, DC Universe Online, and The Matrix Online. Last year, the company laid off employees in both the San Diego and Austin offices. In a company-wide email that followed the layoffs, then SOE president, now Daybreak president John Smedley said:

"I know most of the people we're laying off today. Some of them have been with us here since the beginning. None of them deserved this. Our goal as a company needs to be to make incredible games and grow again so we can bring our friends back."

According to TechCrunch, Columbus Nova will continue to support the publisher's online catalog, including H1Z1, the zombie survival MMO, which recently launched via Earl Access on Steam. And the company still plans to release EverQuest Next, the follow-up to the publisher's most famous game, in the "near feature."

In the Reddit post, the team points at console and mobile platforms playing an important role in Daybreak's future. "In fact," says SOE_Legion, "we expect to have even more resources available to us as a result of this acquisition. It also means new exciting developments for our existing IP and games as we can now fully embrace the multi-platform world we are living in."
I don't really, nor have I ever, fucked with Everquest. So this doesn't mean much in a literal manner. Though still it's interesting to see what such a company will do, now untethered from their OverLord's Teats.