GODDAMN YES: Chris Pratt starring in 'Cowboy Ninja Viking'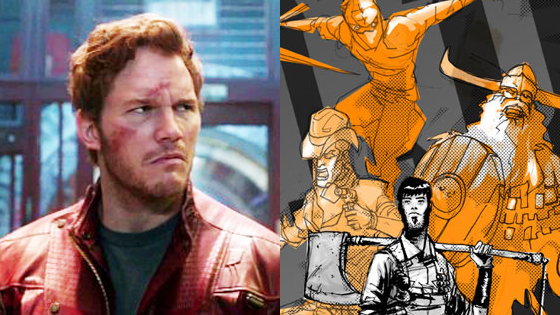 Cowboy Ninja Viking was the short-lived but utterly fantastic comic by A.J. Lieberman and Riley Rossmo. Goddamn insane, with hypertextual, ultra-violence madness, it centered on a squad of assassins, spies, and killers with multiple personality disorders. Pratt is playing the lead Duncan, who yes, is a fucking Cowboy, Ninja, and Viking.
Chris Pratt quickly went from talented comedic actor to franchise star with this summer's Guardians of the Galaxy, and now he's poised to lead another studio tentpole film. Sources tell us that Pratt is now attached to topline Universal's adaptation of the graphic novel Cowboy Ninja Viking, which was created by writer A.J. Lieberman and artist Riley Rossmo. It sounds like the kind of title that would pique the interest of Pratt's Parks and Recreation alter ego Andy Dwyer, and indeed it's a rather heightened genre project. The story revolves around an assassin with Multiple Personality Disorder who possess the skills of a cowboy, a ninja, and a Viking, and works for a secret government progam.

A Cowboy Ninja Viking movie has been kicking around for a few years now. Zombieland scribes Paul Wernick and Rhett Reese initially penned the adaptation for Disney, which deemed the resulting script "too edgy". Universal subsequently picked it up out of turnaround and a few years ago attached Marc Forster (Quantum of Solace) to direct, though he's no longer involved with the project.
I cannot fucking wait. Especially with a script from the Zombieland folk. Or, one that initially involved them. Keep this shit profane, folks. KEEP IT FUCKING PROFANE.