'BORDERLANDS 2' NEWS: New class, new cap, new DLC. Holy f**k.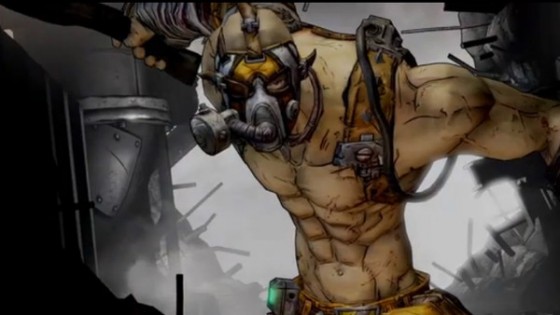 A goddamn boatload of Borderlands 2 news dropped yesterday at PAX East. It is a mighty good thing I wasn't there, for I would have dropped trousers and charged the stage. In my culture, nothing conveys excitement like a stinky little penis head being rubbed on the chair of whomever has done you right. But uh yeah, here is the info.
The new Vault Hunter for Borderlands 2, teased at SXSW, has been revealed at PAX East. Krieg the Psycho will be the game's sixth playable class, and you can see a quick teaser of what he looks and plays like in the video above.He's primarily a melee character, but has a few ranged abilities and can skill up in the Bloodlust tree (focused on combat bonuses), go insane with the Mania tree, or break out fire-based attacks with the Hellborn tree. Krieg is part of the Psycho Pack, which will be available in May for $9.99, or 800 Microsoft points.

On April 2, Borderlands 2 will get the Ultimate Vault Hunter Upgrade pack ($5, or 400 MSP), which will raise the game's level cap from 50 up to 61. Unlike the Psycho Pack, it will be part of the game's Season Pass content and unlock a third playthrough in the "Ultimate Vault Hunter mode."

Finally, Gearbox teased the game's last piece of campaign DLC at its panel, which it simply said was due out sometime in June.