CHUCK PALAHNIUK'S 'SNUFF' Movie Adaptation Gets Financial Backing. Yawn.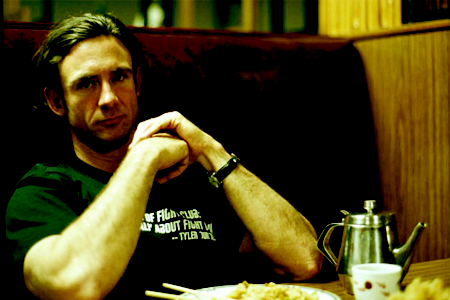 Chuck is like, tots my hero. Love him. Love a lot of his works. Don't really love Snuff. Why can't we be getting a Rant movie?
While "Fight Club" will probably always be the high bar never to be reached again for adaptations of Chuck Palahniuk's work on the big screen, filmmakers will keep trying. "Choke" came and went and was mostly a disappointment, but "Snuff" should be an interesting gamble. The author's book about an aging porn star who decides to cap off her career by having sex with 600 men in one day, with the story told through the eyes of three men who are lining up to do the deed with her, should be challenging to say the least. And while we never thought financing would come through for a project that presumably has a very niche appeal, money is coming.

Immortal Transmedia, and producers Jean Pierre Magro and Dean O'Toole ("Kick-Ass," "Mister Lonely") are fronting the cash for the movie that will be written and directed by French filmmaker Fabien Martorell whose biggest credit to date is the documentary "Tromatized: Meet Lloyd Kaufman." So yeah, not exactly the most promising talent behind the camera and as for casting, it's up in the air. While in early 2011 Tom Sizemore and Thora Birch where said to be taking part (rumors of Daryl Hannah as the porn star were quickly shot down), there's no mention of them here and we presume it will be different talent. We're curious just how this will get made at all, but it seems a couple of people think they can make it happen, so we'll see.
Most writers of mine never get a movie translation as incisive as Fight Club, so I don't expect much. Anything else would be getting greedy.