'Darksiders II' Limited Edition And Collector's Edition Get Swank Details.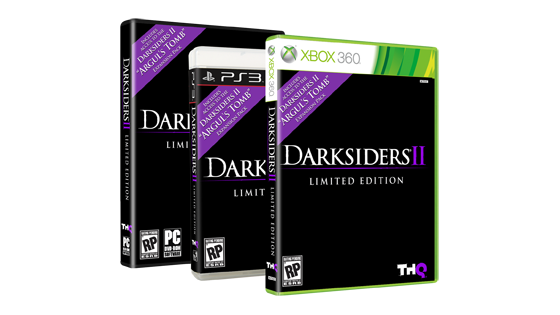 Swag on out with the Collector's Edition of Darksiders II. Per the usual excessiveness that comes with a CE, you can get an art book, sound track and more. Apocalypse baller status, yo!
Hit the jump for a peek into the glory.
Press Release:
THQ ANNOUNCES DARKSIDERS II LIMITED EDITION FREE FOR ALL PRE-ORDERS

Premium Collector's Edition Also Available to Pre-Order

AGOURA HILLS, Calif. March 5, 2012 – THQ Inc. (NASDAQ: THQI) today announced that all pre-orders of Darksiders ® II on the Xbox 360 ® video game and entertainment system from Microsoft, PlayStation ®3 computer entertainment system and Windows PC will receive a complimentary upgrade to the Limited Edition.

The Darksiders II Limited Edition will include the standard retail game along with a unique code allowing the purchaser the opportunity to download Argul's Tomb, the game's first single-player downloadable content pack,for free once it becomes available. All pre-orders of Darksiders II will receive the Limited Edition version of the game at no additional cost.

There will also be a Collector's Edition of the game launching on all three platforms. The Darksiders ® II Collector's Edition will include The Limited Edition version of the game as well as a life-sized replica Death Mask with display stand, a unique Shadow of Death armor and scythe set with enhanced stats, a digital copy of the Darksiders II sound-track and a hard-cover Darksiders II art book. The Collector's Edition will be available in limited quantities as a pre-order item only and is anticipated to sell for around $99 USD.

The Darksiders II Collector's Edition will be available to pre-order in the U.S. and Canada from Gamestop, Amazon.com, Best Buy, Walmart.com, EB Games, the THQ.com store and other select retailers. European release details to follow.

Jim Huntley, Vice President of Global Brand Marketing commented: "The Darksiders II fans spoke and we listened; we are thrilled to be able to offer them a high quality Collector's Edition and to reward gamers who pre-order with a free upgrade to the Limited Edition."

Darksiders II follows the exploits of Death, one of the four horsemen of the Apocalypse, in an action-packed tale that runs parallel to the events in the original Darksiders game. This epic journey propels Death through various light and dark realms as he tries to redeem his brother War, the horseman blamed for prematurely starting the Apocalypse in Darksiders.

For full information on pre-order bonuses available for Darksiders II check out the Pre-order tab on www.facebook.com/Darksiders.

Darksiders II is scheduled to be available for console and PC on June 26, 2012. For more information check www.Darksiders.com.