Nic Cage's Copy of Action Comics #1 Sells For $2.16 Million. Insanity Included.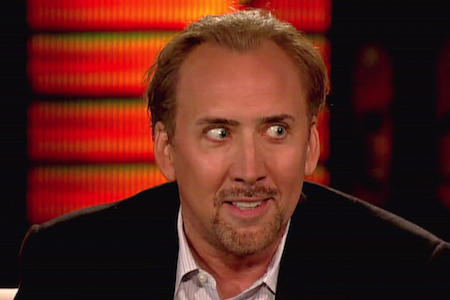 Nic Cage's copy of Action Comics #1 which has been soaked in his glorious madness ambiance, stolen, and since returned, has sold for a fucking fuck-ton of greenbacks.
Graded at 9.0, the rare 1938 comic easily surpassed the previous record of $1.5 million set in March 2010 for the same issue, featuring the first appearance of Superman. That copy was graded slightly lower, at 8.5.

Vincent Zurzolo, chief operating officer of ComicConnect/Metropolis Collectibles, told  Comic Riffs  that the issue that sold this evening – bidding closed at 7:25 p.m. ET – is the best copy of  Action Comics  he's ever seen.

"The buyer was extremely excited about the prospect of bidding on this," he said. "I think he had an adrenalin rush for the last two hours."

The comic was stolen from Cage's Los Angeles home in 2000, and  discovered in April  by an unidentified man who claims to have bought the contents of an abandoned San Fernando Valley, California, storage locker. Although Zurzolo wouldn't reveal the comic's previous owner, he did confirm that his company played a role in its recovery.

About 100 copies of  Action Comics  #1 are believed to exist, but only a handful of those are in good condition.
Frankly, the greater honor is to own something that has been in Nic Cage's  possession.