Friday Brew Review – Crispin Honey Crisp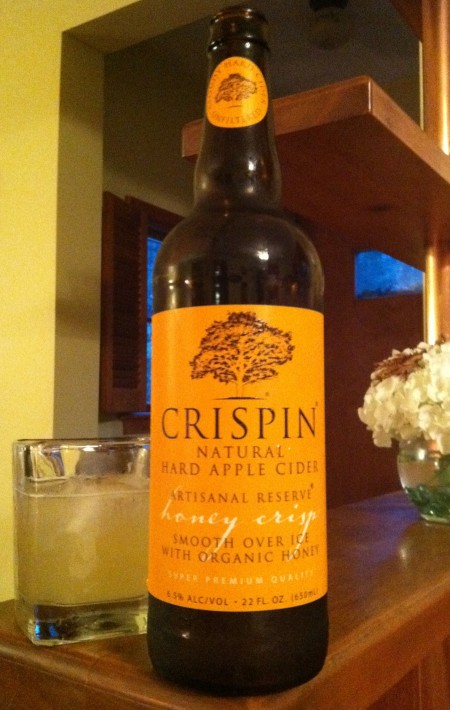 I am a veritable man-slave to Lady Beer.
I live to wait on her hand and foot, making sure that her every desire is met. But how could I ever be expected to resist her? Is there a more breathtaking image than the gentle pulsating of Lady Beer's bosom as she inhales and exhales alcoholic vapors? Could anyone ever assuage my workweek anxieties better than Madam Methanol? Hardly. She's a goddamn beaut.
Sure, she can be bitter as all hell. And I'd be a liar to deny that entertaining her is a   fatiguing endeavor. After a few hours with Lady Beer, I'm ready to sleep indefinitely, awoken only by oppressive sunbeams and inebriation-induced teeth-grindin'. But it's worth it, because her handsome hops and courageous carbonation are wonders that elevate existence from better than non-existence to the rare opportunity to join the universe as an active participant.
Wowzers.
But as I'm realizing tonight, I've been slightly negligent to my mistress. Lady Beer, love of my life though she is, has largely been ignored this summer. It wasn't a conscious decision. Truly. However, the fact of the matter is that I've been spending an exorbitant amount of my drankin'-time with Ms. Apple Cider Bottom. She's fruity and bubbly and making herself more available than she's ever been.
Hell, I'm only man, damnit!
Tonight, I'm sipping on Honey Crisp.
So why did I decide to give Ms. Apple Cider Bottom yet another chance to please my beverage-weiner? Well, for one thing, my liquor store of choice is absolutely teeming with apple ciders. According to the proprietors, hard ciders are en vogue these days, with a whole slew of breweries popping up on the West Coast. However, I also decided to bring Honey Crisp home because of the previous pleasurable experience I had with Crispin Hard Cider.
In short, giving Honey Crisp a chance to dance on my palate was a no-brainer.
Okay, so how good is this apple-based brain-killer? Let's run the gamut on this shit and find out! After all, isn't that the point of a damn review?
Aroma-wise, Honey Crisp isn't too strong at all. But with some exaggerated sniffing on my part, I can detect some floral qualities. There might also be a hint of sweetness, but I'm not confident enough to formally declare it. It's like when you go through customs and you're not sure whether or not you should declare the Super Soaker you filled with piss as a firearm.
Could be.
In terms of mouth-feel, this beverage is a real treat. Honey Crisp is light without being thin, with just enough of a carbonation to tickle the mustache. If I had a mustache, that is. Which I did for a few days this summer, but I shaved it off after crediting it as the sole reason I didn't get an apartment I applied for. Moreover, this cider is incredibly drinkable – I've consumed an entire twenty-two ounce bottle, thereby disqualifying me as designated driver of the night, with supreme ease.
So, what does Honey Crisp taste like? It's smooth and tart and reminiscent of some sort of damn apple-wine! There's definitely a honey element at play, mayhaps providing the sweetness that curbs the alcoholic blow. For a brew with a slightly elevated ABV (6.5%) there's really no bite to speak of. Which is nice for a warm, muggy August evening such as tonight. And unlike cousin Lansdowne, this cider is far more concerned with the fruity-refreshment an apple can provide than its potential for delectable richness.
Honey Crisp is the real deal. Coming at the end of my summer-long experimentation with ciders, this potable has proven itself worthy of lifting my spirits to the point of inebriation. So while stouts and lagers and porters will always have my heart, there's no doubt that ciders are fun for no-strings-attached trysts.
I like apples. I like drinking. I like this cider: A-