Anonymous Hacks Syria's Ministry of Defense Website.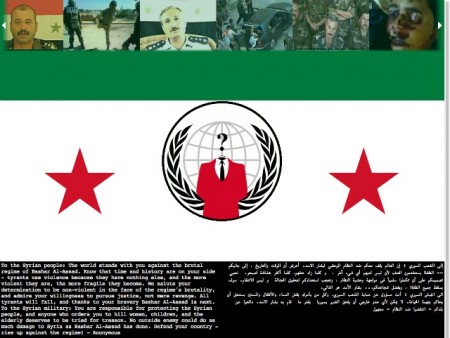 Earlier today the Syrian Ministry of Defense's website displayed a message from Anonymous. Perhaps I don't follow the hacktivist group closely enough, but this seems like their most bold move yet. It's one thing to mess with a corporation, but I can't imagine the stupidity/balls to bring down a government website and replace it with a rambling regarding tyranny.
The website of Syria's  Ministry of Defense, now down, briefly displayed this message today:

To the Syrian people: The world stands with you against the brutal regime of Bashar Al-Assad. Know that time and history are on your side — tyrants use violence because they have nothing else, and the more violent they are, the more fragile they become. We salute your determination to be non-violent in the face of the regime's brutality, and admire your willingness to pursue justice, not mere revenge. All tyrants will fall, and thanks to your bravery Bashar Al-Assad is next.

To the Syrian military: You are responsible for protecting the Syrian people, and anyone who orders you to kill women, children, and the elderly deserves to be tried for treason. No outside enemy could do as much damage to Syria as Bashar Al-Assad has done. Defend your country — rise up against the regime! — Anonymous
The website is now down.