CAGE MATCH: The Week in Nic Cage
Hello there. My name's Patrick and I'm new here. The Brothers Omega have been retarded generous enough to offer me a position at their site, so here I am. I haven't read a comic book in five years and don't own a single video game system. Therefore, all I will be writing about is Nic Cage. Your prayers have been answered.
This is the premiere edition of CAGE MATCH – a weekly column where I fill you (yes, you) in on everything that happened in the past week in the world of Cage. So strap in, dorks. Time to read up on what really matters in life: CAGE!
Another Season of the Witch Trailer, Release Date Finally Announced
Over a year ago I was visiting my parents in New Jersey and we went to the movies. On the outside the theater was a HUGE banner for Season of the Witch. My face exploded. It was a 90 foot Nic Cage decked out in medieval gear and it said "coming soon." Some preview screenings were held in December of 2009 but then the movie was dropped by its distributor and fell off the face of the planet. Now the bitch has been picked up by the folks at Rogue Pictures and will be released on January 7, 2011. Huzzah.
Cage stars as Behmen, a 14th century crusader who returns to his homeland to find everyone losing their shit over the Black Death. He's assigned the mission of bringing a girl accused of causing the plague to a monastery where some monks will perform a ritual supposed to drive away the sickness. That probably means they're going to rape her or something. Not on Cage's watch, you old religious farts! This looks seriously awesome.
More Cage news after the jump.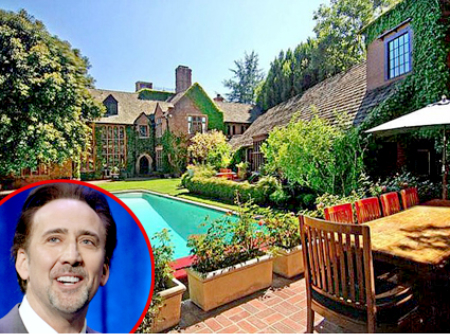 Cage's "Frat-House Bordello" Sells for $10.5 Million
Remember when Nic Cage went broke from buying too many dinosaur skulls and castles? And he had to foreclose his $35 million Bel-Air playhouse? That was back in April. Now, the LA Times is reporting that an anonymous buyer has paid $10.5 million (in cash!) for the place. No word if that includes Cage's enormous comic book collection, T-Rex skull, pythons, or any of the other shit poor people don't know exists. But one of my sources tells me that Cage purposefully left his Micro Machines all over the floor so the new owners would fall and break their hips.
Cage Rage Super Edit
This awesome video made its rounds earlier this week. You've probably seen it, but you should probably watch it again. I like that it closes with Cage painting himself black. That's a clip from the erotic thriller Zandalee. It's a shitty movie, but Cage snorts a ton of coke and paints an abstract portrait of Judge Reinhold, so that's cool.
Side note: There's an awesome song by the J. Geils Band called "Rage in a Cage." Don't perform it at karaoke though because there's a lot of instrumental messing about. You've been warned.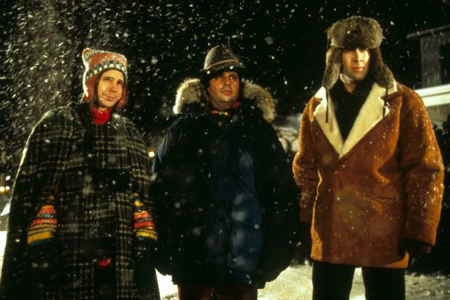 Ah-Booyah! Trapped in Paradise Available on Netflix Watch Instantly
For awhile now, Netflix has offered a handful of Nic Cage movies on their Watch Instantly service, but two of them suck: Guarding Tess and It Could Happen to You. I couldn't get through the first and the only thing I liked about the second is that Bunk from The Wire plays Cage's partner. To make up for it, this week Netflix added the 1994 comedy Trapped in Paradise. I haven't watched it since it first came out on VHS, so I'm all over this like Cage on T-Rex skull.
Also available is the underrated neo-noir Red Rock West. Cage stars alongside Dennis Hopper. Nuff said.
Nic Cage Makes You Love Pachinko
Pachinko is some kind of electronic gaming/gambling machine in Japan. Whatever. It's Japanese therefore it's insane and scary. To highlight their lunacy, the manufacturer of these machines chose Cage as their spokesman. Above is a montage of five pachinko commercials featuring Cage losing his mind and dancing with aliens. Makes perfect sense!
That's all for this week. Have a nice Thanksgiving and I'll see you next Wednesday for more CAGE MATCH!