Buy These Flippin' Comics!!! (1.15.2013) – He's A Miracleman, Man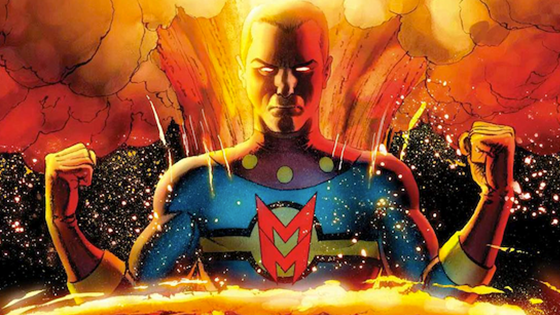 What if Superman took over the world…and the story ends there?  Not because there isn't anything left to tell, or that once a man who is also a god declares himself king there is no more strife in the world.  No – the story ends because DC loses the rights to Superman, and the character remains tied up in litigation for years, and the story CAN'T be told.  Sorry, no third act.  Curtains.
Hit the jump and let's talk about the very similar story of Miracleman, the dawn of deconstructionism in comics, and how the third act in the story of Miracleman begins again this week courtesy of Marvel!
Oh, and we'll also be chatting about some of the other cool books dropping this week (full list can be found HERE) so if Miracleman ain't yo' thang you might find some other goodies within. 

—-
MIRACLEMAN #1 – Marvel Comics
OMEGA-LEVEL Pick O' The Week!
The origin of Miracleman (née Marvelman) was an inauspicious one, born as many silver age creations – rip-offs are obvious homages to Golden Age predecessors.  In this case, UK publishers couldn't publish Captain Marvel stories anymore, and so created their own – Marvelman born of science (his trigger word is "KIMOTA" – backwards for atomic), rather than Captain Marvel of magic.  He remained a fairly one-note, innocuous title until Alan Moore started working with the character in 1982 (and changing the name to Miracleman).  In a move that would define his career (and the future of comics), he turned the character into a study of "great power corrupting absolutely," essentially deconstructing the idea of the superhero, and focusing on the "real world" application of the concept. After Moore left the title, Sandman author Neil Gaiman worked with the character for a short while before the publisher went out of business, and the planned end of the story was never told.
Fast-forward to today, 2014, some twenty years after the last (official) appearance of Miracleman, and if you walk into your comic shop you will be seeing him once again.  Marvel Comics, after purchasing the rights to the character in 2009, and with Alan Moore's blessings and Neil Gaiman eager to finish the story, has ensured his saga will continue.
These first issues are actually reprints of the old, hard to find Miracleman issues that Alan Moore worked on, as well as primers to reacquaint readers with the character.  Miracleman is more than an interesting story; it is an important one for it spearheading the deconstructionist movement in superhero storytelling, and a fascinating glimpse into ownership rights and all the drama that happens behind the pages.  This new chapter in the "life" of Miracleman promises to be exciting, so make sure you hit the shops this week and check him out!
—-
Fantastic Four #16 – Marvel Comics
(W) Matt Fraction / Karl Kesel  (A) Joe Quinones
FINAL ISSUE!
Surprising right?  Not even 30 issues total for Matt Fraction and his run on the Fantastic books?  Was it a success, then?  I'd like to think that FF will be looked back on as another diamond in the rough type Marvel book like Nextwave and X-Statix – well ahead of it's time and destined to not find the audience it deserved.  F4 was perhaps more formulaic, and being such, never much interested me.  That's not to say Fraction didn't do a great job, but it just didn't feel like a Fraction book in the way F4 or Hawkeye does.  I haven't heard of a reboot for F4, so I wonder what's up with the First Family of the Marvel U???
—-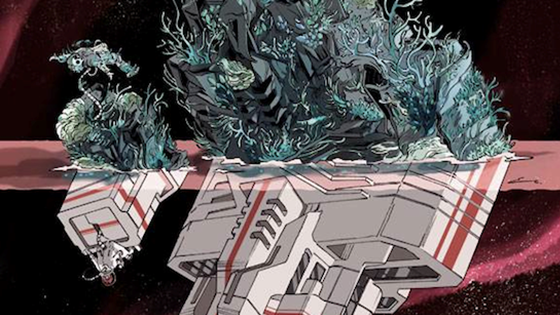 Prophet #42 – Image Comics
(W) Brandon Graham / Simon Roy  (A) Simon Roy / Giannis Milogiannis  (CA) Emma Rios
More blessed sci-fi weirdness from Graham and Co.  This book might be nearing the finish line, but the quality remains high.  High?  Fucking stellar is what it is.  One of my favorite books of the last 5 years.  Check the sweet Emma Rios (Pretty Deadly) cover, too.
—-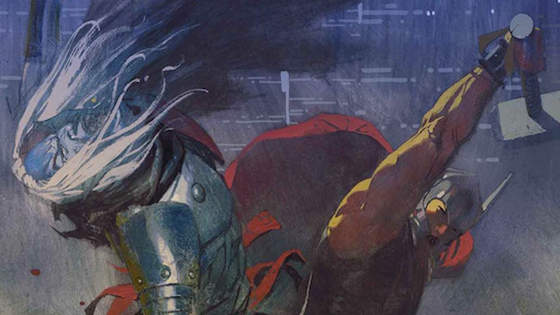 Thor God of Thunder – Marvel Comics
(W) Jason Aaron  (A) Ron Garney / Emanuela Lupacchino  (CA) Esad Ribic
This book is legit fun.  Jason Aaron is the perfect writer for the violent thunder god.  I'm still a couple of issues behind, but this wraps up the "The Accursed" storyline, with the villain Malkieth from the 2nd flick given way more personality here than he ever had onscreen, sad to say.
—-
Night of the Living Deadpool #1 (of 4) – Marvel Comics
(W) Cullen Bunn   (A) Ramon Rosanas
I'm not a Deadpool guy, really.  I think he's just a sillier, more violent version of Spider-Man – well, well all think that, he IS that, he would even cop to that – and as such, it is rare that I'll buy a book starring him.  However, Cullen Bunn is pretty goddamned great (check out The Tooth, Fearless Defenders, or The Sixth Gun if you don't believe), and this book is a zombie tale with some pretty spectacular art.  Plus, it's in black and white and red, which is rare for a Marvel book.  I'm in for the first issue, anyways.  I've about had my fill of zombie stories.
—-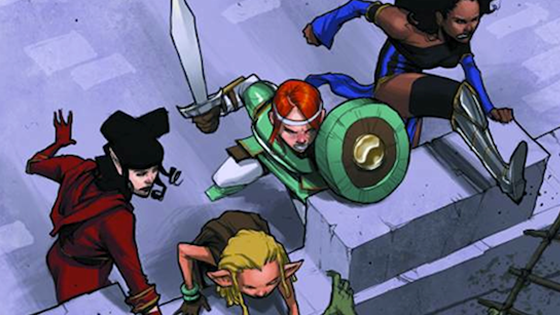 Rat Queens #4 – Image Comics
I don't think anyone else here is reading this hilarious "swords & sorcery & swearwords" book, but you should be.  Tis the shit, so Imma keep pimpin it.
—-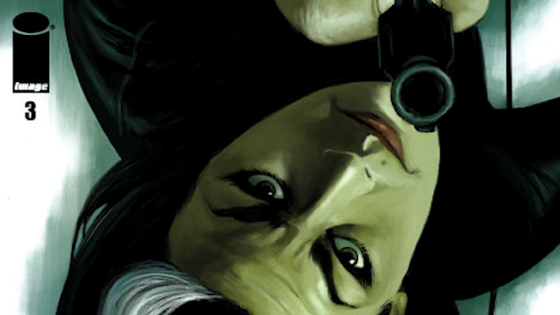 Velvet #3 – Image Comics
I'm still waiting for this book that is, essentially, "Moneypenny is a bigger badass than Bond" to officially WOW me.  It hasn't – but a Brubaker and Epting joint has got to be good at some point, right?
—-
MISCELLANY:
Suicide Squad #27 – My reading of COPRA (which was an homage to one of my favorite books back in the day, John Ostrander's Suicide Squad) and my reading of Mind MGMT, have got me really jazzed to see what the hell Matt Kindt is cooking up in the DCU with his run on Suicide Squad.  I haven't read this book at all, but will be giving the title a shot for the first time come Wednesday.
Black Dynamite #1 – Curious how the movie translates to comics.  For my money, it can't be any better than AFRODISIAC.
Must Read Valiant Comics #1 – Valiant is dropping an unbelievable deal with this collection of 6 issues of its various publications for the low low low price of $5.99.  If you're looking to check the line of books out, this is the place to start.
That's gonna do it for this week guys!  I know Nova, some X-books, and a couple Spidey books drop this week, so make your voice heard!  Let us know why these books deserve a spot on this list!
Hotsauce out!