INFOGRAPHIC: How Much BODY PARTS Cost On The BLACK MARKET. Wonderful.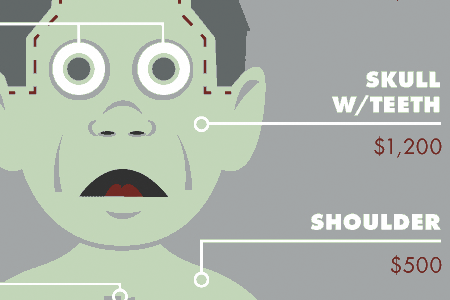 I think we all know that I'm either going to need to sell an organ soon to fund this wunderbar-blogging experience, or buy a new kidney. Diet Dew slowly eroding the guts, taxing the internal purification systems. This handy infographic I never thought I'd see breaks down the going rate for all our meat sac rotting parts.
If you were ever curious as to how much body parts can fetch on the black market,Medical Transcription  created a snazzy infographic to show you. Some parts are shockingly cheap! Like would you want a new shoulder or a new iPad? Both cost 500 bucks.

Other organs are prohibitively expensive, like a kidney. That little sucker costs $262,000 in the US (other countries have it for cheaper)!