'Bulletproof Coffin' Creators Cut Up 'FANTASTIC FOUR #2' With Scissors. For Art.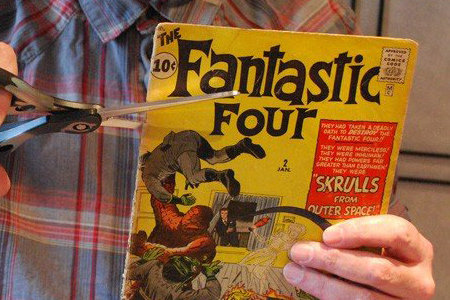 I can get behind this insanity from the creators of Bulletproof Coffin. They goddamn cut up a copy of Fantastic Four #2. You see,  I don't collect comic books. I read  them. Sometimes I rip out pages and stick them on my wall in moments of inspiration. However, with an issue of this nature…I may show a little more reserve. So double-daps to them.
Hit the jump for pics and info.
To illustrate the concept behind an upcoming issue of their excellent Image comic,  Bulletproof Coffin, creators David Hine and Shaky Kane have taken a pair of scissors and  cut an issue of  Fantastic Four  #2 into pieces.  COLLECTIVE GASP!  The pair removed individual panels from the classic Jack Kirby comic and placed them in different order as a demonstration of  cut-up technique, wherein components of a work (usually, lines of text) are rearranged to create an entirely new narrative. Behold their superhero comics apostasy with horror and/or fascination!