Marc Maron's 'WTF' Sitcom Gets Picked Up By IFC. Tots Meta, Man.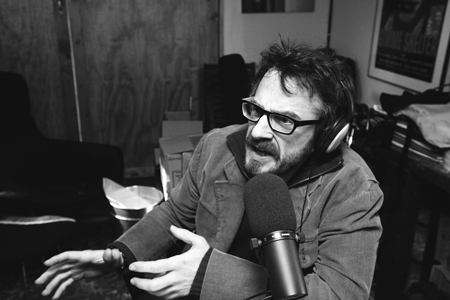 Marc Maron's sitcom about his life has gotten picked up by IFC, and has sent me into a masturbatory meta hole. A sitcom about a guy who does a podcast…starring the guy whose its based on…who does a podcast…what if there's a podcast about the sitcom about the podcast…
In news that should serve as enrapturing, positive reinforcement for comedian Marc Maron were he capable of enjoying such feelings,  Laughspin  reports that IFC has given the green light to 10 episodes of the  WTF  host's semi-autobiographical, single-camera comedy, ordering it straight to series after screening the pilot. Maron, of course, stars on the show, playing a guy who records a podcast in his garage, tries to keep a relationship together with his younger girlfriend, and has comically tense interactions with the guests on his show. It's fiction, sort of. The pilot (which first screened last fall at the New York Television Festival) co-stars Ed Asner as Maron's "vitamin-pushing, bi-polar father," while  Community  star Ken Jeong guests as himself for the faux-podcast portion, though it's not clear yet whether Asner will remain on the show. What is clear is that Maron setting up some microphones in his garage continues to be the best career move he's ever made.
The Brothers Omega have made their love for Maron known, so I'm pretty stoked for him right here. I have to admit a bit of selfishness, as I worry if this will take away from WTF.