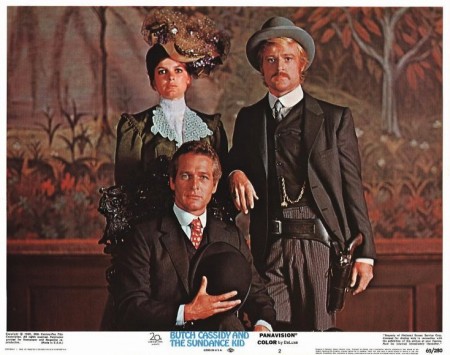 Though it is unquestionably a great film in my mind, Butch Cassidy and the Sundance Kid is a strange beast of meshing tones, genres, and storytelling techniques. Dynamic as hell, it has the ability to jump at a (strange) moment's notice from farcical, tongue-in-cheek roguishness more fit for a straight comedy to pensive, anti-western mythmaking more in keeping with late 60s-early 70s westerns. A particularly fitting example is when the protagonists escape to Bolivia: there, we are hit with the wonderful irony of Butch Cassidy (Paul Newman) and Sundance Kid's (Robert Redford) professional transmogrification from bank robbers to payroll security; but before this can be relished, both characters are confronted by outlaws not unlike themselves (albeit more lethal), which rapidly culminates in a slow-motion shootout analogous to Peckinpah's bloody masterpiece The Wild Bunch. The shift is shocking–as one of such a violent nature should be.
And of note on the technical side, the beautiful montage of photography of their travels may work to temporarily still the film's endlessly brisk energy, such an inclusion ultimately shows just how jaunty the entire movie is. Even when it tries to slow down and contain itself, it can't. The film has too much to show, too much to do, too much to revel in.
But I think it all comes together nicely. Though the dust is barely allowed to settle before the next dust-up or genre breakdown occurs in the movie, it nevertheless does settle, and what's left standing is fascinating. Newman, Redford, and Katharine Ross (as Etta Place, school teacher and right angle of the film's love triangle) are spry enough to maneuver the narrative and tonal shifts. William Goldman's witty writing demands the flexibility, as the film is constantly toying with conventions (and expectations). And, bringing it all together, the solid directing of George Roy Hill makes sure the ride remains consistently enjoyable through the story's inherent unpredictability.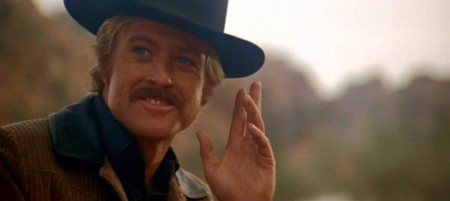 I could conceivably offer up this entire movie as an example of a strange, yet solid movie, but that would be too limiting. Embracing the nuances in its complete state is the best way to show just how exciting the (un)balancing act truly is. However, that doesn't mean I cannot pick out a moment that is stranger than the rest to look at. In a movie that employs music in inimitable ways–Burt Bacharach credited with creating the music, which fluctuates riotously like the movie itself–the pop song "Raindrop Keep Fallin' On My Head" sung by BJ Thomas is certainly the strangest specimen of the bunch. And playing over the effervescent, bicycle-riding romp of Butch and Etta, the song contributes to the film's strangest moment, seen here:
I have to admit: just like the rest of the movie and its smorgasbord of strange, I find this scene fun, if indeed a bit out of place. Another (less anachronistic, perhaps) song could probably have been sufficient in conveying the scene's cheerfulness without being so wacky, and I know that this scene in particular is used by some to point out the film's supposed shortcomings. When this debate comes up, I start out on the fence about it. I can understand what the detractors are saying, nodding my head in quiet acknowledgement of the scene's goofiness–and arguably crass marketing ploy for a pop single that did end up being a chart-topping hit and Oscar-winning song–but that acquiescence is eventually given over to a cheery defense of it. (How anyone could vehemently argue in favor of it is beyond me). The scene does the trick in expressing Butch and Etta's mutual attraction–and giving further evidence of Butch's ever-present mischievous side, while similarly revealing Etta's penchant for going along for the ride, even when presented with newfangled schemes and contraptions.
Furthermore, the song is one man's reaction to rainy weather and how it can't get him down; he just keeps on smiling and worrying not. Because of this, it's thematically appropriate: Butch and Sundance are always trying to make the best of bad situations (though, unlike the weather, some of those bad situations are self-inflicted). A great example of this optimism is the last scene of the movie, where, in spite of dire odds, a ridiculous plan to go to Australia is hatched. They aren't going to give in to hopelessness or depression. Consequently, the song, as light as it is, adds a little something to the overall narrative.
So although I begin on the fence about the whole scene, I, like my boy Butch, go crashing through it in the end, onto the side of enjoyment (though, intellectually, it may sting a bit). Why? Because I am free. Oh ya, and because nothing's worrying me, either.
(Note: As most here at OL already know, the song was also used in Spider-Man 2, in a moment strange in and of itself, as well. If the stars align and the OL gods allow, maybe someday it have its very own SMSM down the line.)