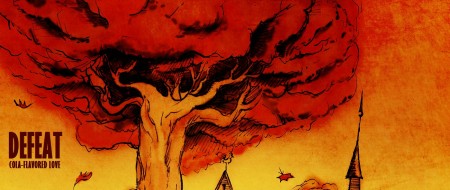 [DEFEAT. is Rendar Frankenstein's unabashed love song to the very things that've kept him alive - sci-fi, heavy metal, fantasy, war epics, and pop culture. Accompanied by original art by B. Galiano, each weekly episode continues the tale of Daryl Millar - a hero guaranteed to die upon the novella's conclusion. All are welcome, but nerds are encouraged]
It was three o'clock in the afternoon. Daryl'd been sitting on top of the Pepsi machine for a half an hour. Perched above, he had clear view of the three suburban blocks in front of him.
It was a perfect panorama of suburban chaos.
Station wagons and vans whipped around corners, providing the day's only excitement for their middle-aged drivers. Youngsters fleeing their elementary schools chased one another with no regard for their surroundings. Husbands rushed out of their front doors with their mistresses, returning to their offices after extended lunch breaks. Mailmen, finally shaking off their hangovers, swore at the ten-year-olds running through their paths of delivery.
All of these islands interested Daryl, but the makeshift crow's nest had been designed in the hopes of spying one legendary continent. It was lush and full of life, capable of invigorating those few and far between who reached it. Daryl had ventured further into its jungles than any other, exploring the uncharted darkness that no man had ever before braved. Since leaving, it'd been Daryl's desire to return as soon as possible. And return he would, for he could see his El Dorado on the horizon.
Vanessa.
Daryl hopped down from the vending machine to greet the love of his life. She was incredulous at first, unsure of whether or not the man making her soft in the knees was real or a product of wishful thinking. But when he opened his arms for her, Vanessa had more than enough faith to run right into them.
They embraced, relinquishing themselves to one another.
Without reservation.
Without concern that passersby may be taken aback.
Without a care in the world. Except for one another.
"Hey, Vanessa! What're you doing? We got tables fulla customers in here!" Mr. DiBiase had found his best waitress not inside, serving the patrons, but outside of the arcade and in a record-contending liplock. "We're lost without you," the boss sighed before disappearing back into the warehouse of illuminated machines.
"I have to go," Vanessa lamented as she bit her bottom lip. "Mr. DiBiase's a great boss but I don't want to test his patience."
In her eyes Daryl saw affection unrestrained. Adoration without stipulation. A love that is pure and good and genuine in a way that inevitably fades over time. This shared moment offered the young lovers a sense of solace, of security and purpose that cannot be realized in solitude.
Complementary components of human experience were joined.
It was unfathomable to Vanessa that such purity could ever be sullied. But Daryl had glimpsed into possibility and was gifted the understanding that beauty is fleeting. Hell, even Marilyn Monroe spent her last night on Earth gobbling pills and snorting powder. But that doesn't take away what an absolute breath-taker she had been in life.
The inferno of passion that unifies separate beings cannot rage forever. For even marriages of the most faithful and invested sort will eventually find its participants futilely trying to rekindle an extinguished flame. The embers may burn. But there is no hope of a phoenix ignition.
"I love you." Vanessa hadn't planned on offering the words — they had just sort of popped out. But they didn't feel wrong to say. And she didn't regret them.
Daryl peered into the rich brown eyes, thick lashes batting wide, and knew that he would never love nor be loved as much as he was right then. Knowing this, grappling with the notion that even what we want most and try hardest to keep will slip through our fingers, the hero was alleviated of the burden second-guesses.
"I love you, too."
Tomorrow, he would die by his own hand.