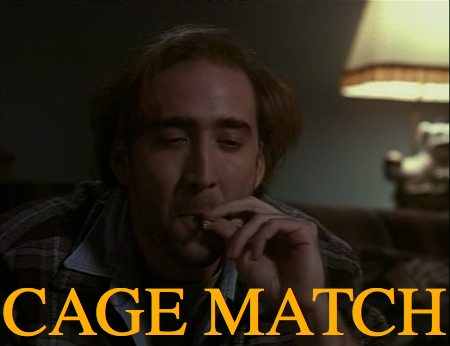 Welcome back, suckers, to the only column in the universe that wraps up all of the important Nicolas Cage news of the week. Besides news, we're also continuing our series of videos from OOP Cage films you probably haven't seen. Two weeks ago we brought you inside Cage's mansion with The Cage of Nicholas and last week we dropped a clip from the rare gem Time to Kill. This week we've got a real treat: Cage's brief but amazing cameo from the Adam Rifkin's 1988 comedy Never on Tuesday. In my opinion it's as baffling and memorable as his Eddie character from Deadfall.
Not too a lot of news this week but there is a titillating sequel rumor has surfaced that is sure to make your trousers tight. Also more on the upcoming Medallion and Ghost Rider 2. I'm a little tired, little wired, and I think I deserve a little appreciation! Let's do this!
Cage's Bizarre Cameo in Never on Tuesday
Never on Tuesday is a road trip boner comedy directed by cult director Adam Rifkin (The Invisible Maniac, Detroit Rock City). Andrew Lauer and Peter Berg (of Friday NIght Lights fame) play the lead hornballs, but sprinkled throughout the movie are brief cameos by big name actors including Cage, Charlie Sheen, Cary Elwes, and Judd Nelson. About 11 minutes into the film Cage, credited as "Man in Red Sports Car," makes his appearance. It's really…well, Cage-like. I threw the above clip on YouTube because the world needs to see this very important moment in our favorite actor's career. Enjoy!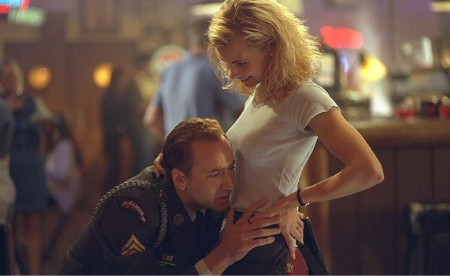 Simon West Wants to Make a Con Air Sequel WUT?
Director Simon West's remake of the 1972 Charles Bronson classic The Mechanic comes out this Friday. The original is a badass classic and the ballsy first 20 minutes feature no dialogue – just Bronson being the man. Anyways, in an interview with CraveOnline, West stated that he'd like to reunite the entire cast of Con Air for a sequel. Cameron Poe is one of Cage's undisputed classic characters and the supporting cast of that film is ridiculous, so yeah, I say why not. I'd love to hear Cage revive that horrible accent! West also talks briefly on his upcoming collab with Cage, Medallion.
(on a sequel to Con Air) I know! It'd be great. It's a matter of getting everybody together. There's so many people involved and it's about getting everybody to agree. But I'm going to bring it up to Nic. I'm going to put a bug in his ear about it. If the two of us want to do it, we'll go after the others.

(on Medallion) It's a bank robber film. He's a bank robber who just gets out of jail. His ex-partner, who everyone thinks is dead, is working as a cab driver and kidnaps Nic's daughter and throws her in the trunk of a cab because he thinks that Nic's character still has 10 million from an old job, even though he doesn't. Because he doesn't, he has to go and rob a bank, which he said he was going to give up. (via CraveOnline)
In other Medallion news, the film's setting has changed from NYC to New Orleans. Cage's daughter will be kidnapped during Mardi Gras. West says "It's a perfect time to hide someone." (via NOLA Examiner)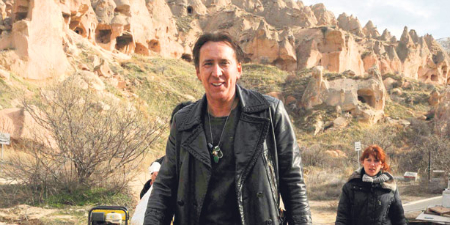 Ghost Rider 2 Wraps; Nic Cage LIKES Cappadocia!
In what could possibly be the biggest news to hit Istanbul since the city changed its name from Constantinople, newspaper Today's Zaman, Cage "likes" Turkey's Cappadocia region. Ghost Rider 2 finished shooting in Turkey on Monday, and in a fearless act of journalism, Zaman laid it all on the line with this nugget of insight:
The famous actor walked to his car through the valley following filming at the Zelve Open-air Museum. Cage seemed exhausted and was covered in sweat and dust. Responding to a reporter's question, Cage said that he liked Cappadocia. He later headed to the hotel where he has been staying with his wife and child.
I'm just playin' Zaman. Thanks for the Cage news!
Ghost Rider's Hellcycle Revealed, Arf? And TONS of BTS Photos
The Marvel Movies Facebook page for Ghost Rider 2: Spirit of Vengeance has a grip of new behind the scenes photos, including the above pic of a charred motorcycle that could possibly be Blaze's new ride. As badass as the bike is, the below pic of Cage wearing a top hat is one of my new favorite Cage pics ever.
See you next week!