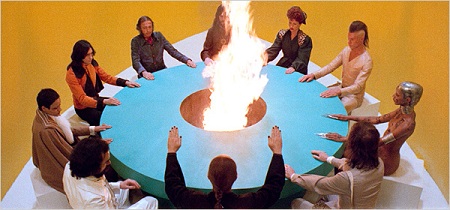 The phantom hides in the pantry, waiting for the child to awake. Always in the pantry. Always behind the cookies. The child, bleary-eyed and delirious with dream-dust, makes his way into the snack cabinet. His belly, constantly satiated by parents who know not of discipline, grumbles. Obeying, the child opens the cupboard door and reaches in to retrieve the chocolate-chip delights.
SNATCH!
Snack time.
For the phantom.
–-
Welcome, my babies, to the Monday Morning Commute. This is the place where we detail our agendas for the upcoming week. Avoid the drudgery of existence. Beat boredom into a pulp. Repel the Snack-Phantom. Let's fuggin' do this.
–-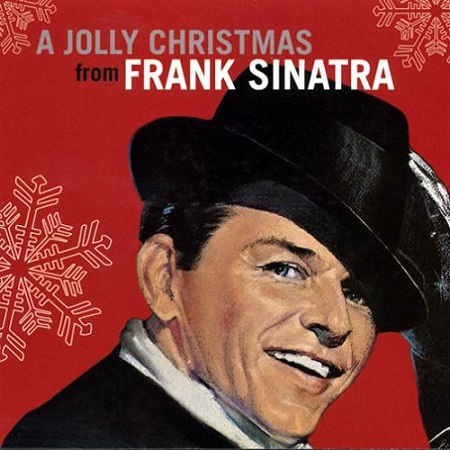 Listening / A Jolly Christmas from Frank Sinatra
In case you haven't noticed the fleet of minivans parked at the mall indefinitely or the neighbors who think their front lawns are reasonable facsimiles of Times Square, let me clue you in: it's Christmas time. Or holiday time. Or whatever. From my completely secular standpoint, I kind of wish we could all give up the bogus religious connotations of the Winter Solstice Festivals and agree on something new. One holiday to rule the all.
Anyways, I use a few different activities to get into the holiday spirit. Spending time with friends. Pounding eggnog by the liter. And most importantly, listening to seasonal music. Over the years I've run the gauntlet when it comes to Christmas tunes, from Jimmy Buffet to Savatage. Hell, if you don't give yourself a chance to try the kookier coldcuts from the Christmas music antipasto, you're really doing yourself a disservice.
This year, however, I'm going the route of the traditionalist. I took it upon myself to download a vinyl rip of A Jolly Christmas from Frank Sinatra.
Holy Jesus-Birth, Santa, a digital transmission of a piece of plastic that was listened to by someone fifty-three years ago?!?! Somebody with hopes and dreams and a consciousness that has probably since faded back into the Universal Collective?!?
Yes, I even try to make my holiday activities about temporality-defiance.
Anyways, this album is full of all the classics that bring warm, fuzzy feelings to the pit of my gut. Hearing Old Blue Eyes sing-song his way through Jingle Bells makes me want to dance around the Christmas tree with a glass of brandy in my hand. Hearing him   belt out Adeste Fideles nearly puts a tear in my eye. It's easy to write-off the album, as you've no doubt heard every track at one point or another. But the ubiquity of the individual tunes should not dissuade from giving the whole a spin, as the synergy at work is truly astounding.
–-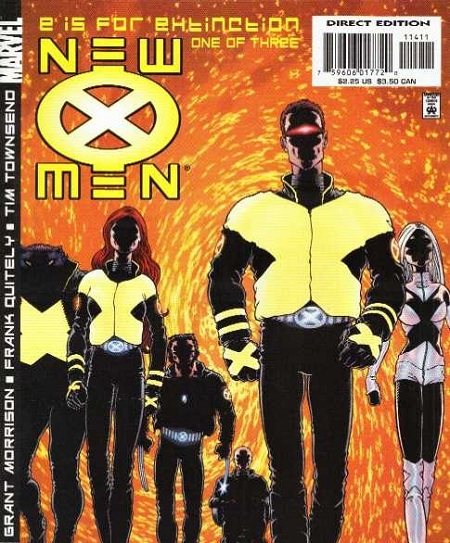 Reading / E is for Extinction
Caffeine Powered and I finally sat down the other night and watched Talking with Gods, the Grant Morrison documentary. Long story short, it was absolutely fabulous and anyone who fancies themself (yes, not the himself/herself BS, let's just make it themself finally) a comics fan should give it a view. Morrison is portrayed as both the stark-raving magician who summons UFO hallucinations to write as well as a down-to-Earth, practical writer. Blown away by what I saw, I asked the elder Omega Brother to recommend some Morrison work that I might've missed.
The boy didn't disappoint. Upon my desk, I found a stack of three issues of New X-Men: the story-arc E is for Extinction. Illustrated by Frank Quitely (goddamn he's good). I've toppled the first two issues and I can honestly say they are best two X-Men comics I've ever read. Essentially, takes the reader through an action-packed exploration of evolution, the lengths to which species (and individuals) will go to survive, and the sheer brutality of asserting dominance over others.
Mr. Morrison brings back Sentinels into the fold, altering them so that they are frighteningly self-reliant. Secondary mutations are all the rage, as Beast grapples with his (then) new feline form. Xavier is mind-intruded by the fiendish Ms. Nova, and fends her off by threatening to shoot himself in the head. Genosha is…well, the place has seen better days.
E is for Extinction is must-read material for any X-Men fan. It's embarassing to have only gotten to it now.
–-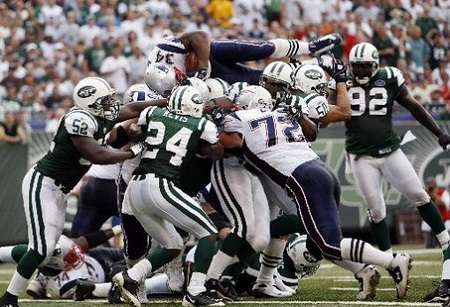 Watching / Patriots v. Jets
Patriots and Jets are duking it out on Monday Night Football for AFC supremacy. Oh shit, that's right now! Gotta run!!!
–-
What're you doing this week?