Omega-News: TORONTO FAN EXPO! NEW T-SHIRTS!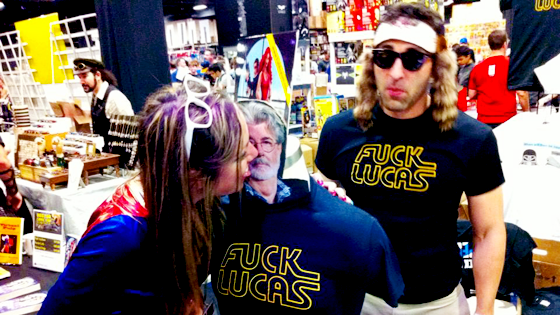 Hello friends! Some news up in this rotting spaceship heezy. Omega Level will be holding it down at Toronto Fan Expo (booth 501) this week, from August 22-25. Bateman, Frankenstein, and Budrickton will be there slinging shitty t-shirts. Posing with you for life-altering pictures. Pushing copies of Allen Drinkwater's OMNI. Word on the street is that he will be there too, hiding underneath Bateman's rascal scooter that the crew has to tie to their car roof.
Oh! And speaking of shitty, though somewhat amusing t-shirts, we have several new ones that we debuted at Boston Comic Con that are now up in the store.
Hit the jump to check them out.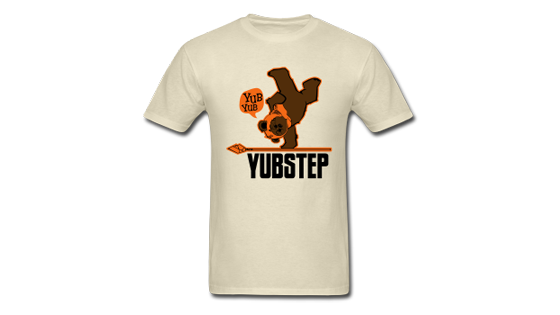 Yubstep
Can you feel that bass blastin' you in the chest? What about those high-pitched blasts whizzin' past your head? Yeah, that's right, there ain't nobody on Earth that can match the audio-stylings of DJ Wicket. Word on the street is that his 808 is preloaded with legit samples of AT-ATs blowin' up and Scout Troopers' death rattles.On the forest moon of Endor, there ain't no better way to party than by dance-floorin' to YUB-STEP.
—-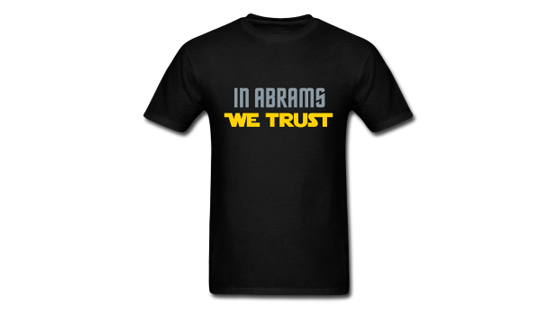 In Abrams We Trust
A long time ago in a galaxy very, very close, no one thought that a man would boldly go where no man has gone before. There were clear lines of demarcation, with lightsabers on one side and phasers on the other. The very thought that one could bridge this gap, could mend the proverbial nerd schism, well it would've sent shivers down spines.But there is a great unifier amongst our ranks. A man whose love of science fiction's two greatest masterpieces has inspired him to contribute to their legacies. He is brazen, bespectacled, and perhaps a bit reckless. He is JJ Abrams, and he wants all of us to trek through wars.In Abrams we trust.
—-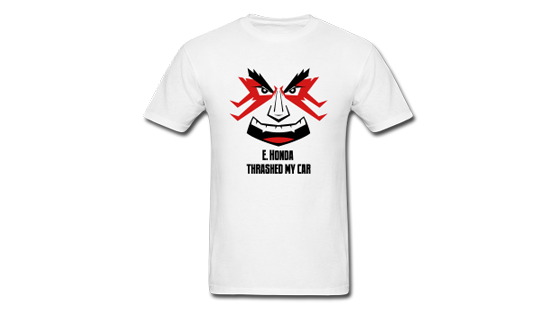 E. Honda Thrashed My Car
Jesus Christ. I turn around for like two seconds to grab myself an ice cream cone, and that sumo son of a bitch E. was beating the living crap out of my car. Hundered hand slapping the snot out of my 1992 Toyota Corolla. Listen it wasn't the nicest car, but it was mine god dammit. Oh, you've had that fat prick thrash your car too? Blathered about a bonus stage? Then buy this t-shirt and suffer in style. Or at least not alone.
—-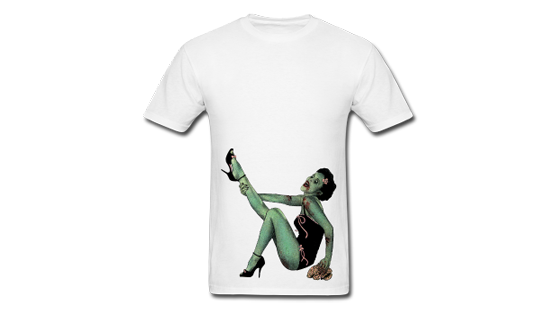 Zombie Chick (by Adam Miller)
Life doesn't have to end after death. Or maybe it does, but who the hell cares if this is what is waiting for us post-mortem. Rip your sorry asses up out of the permanent dirt nap. Dust them shoulders. Then take off into the wild apocalypse searching for your own rotting, rocking zombie babe.Design by Adam Miller of Zombie Bomb
—-