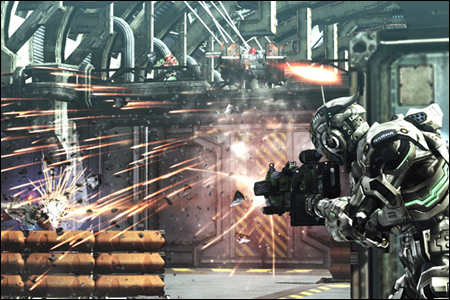 [pixelation | weekly gaming & life column every wednesday or uh thursday or even more uh, friday]
–-
Oh god dammit. I was curious yesterday as to how my gaming schedule was going to look this Fall. I knew that Vanquish and Fallout: New Vegas were dropping close to one another. I just wasn't sure how close. And that shit is integral for a variety of reasons. Namely, money and time. It seems like a lot of bullshit comes down to money and time.
So I cue up Gamestop.
Flip between the two pages.
And that's when I realize that I'm fucking fucked in the fuckhole.
Son of a bitch!
Why do the gaming gods hate me so? Droppin' two of my favorite games on the same day? Not only is it monetarily Super Rape Time to even contemplate getting the two games on the same day, but it's also completely impossible to consider squeezing any sort of Super Action Mech Time into my Wasteland wandering. Son of a bitch!
…Motherfuckers, too. If this was last year I'd just pick them up on the same day, and watch as my backlog swells while my wallet diminishes. Don't tell my girlfriend or parents, but I think I've shown some maturity in realizing something: I need to pick one and put off the other. I think I may be evolving. I mean, let's not go crazy, I'm probably going to publish this article and then go masturbate before playing two hours of Modern Warfare 2.
But hey man, progress is slow.