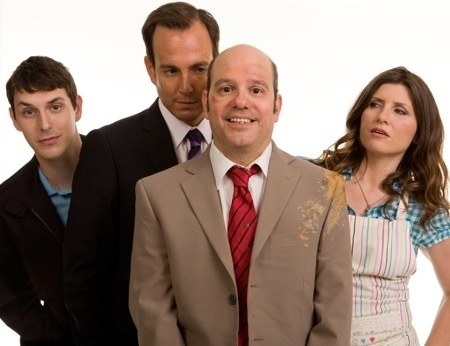 About a year ago I saw David Cross in Boston. The show was hilarious and made even more special by the fact that it was taped for release. But what was especially memorable was the fact that Cross previewed five minutes of a new series. He said that the project was being developed for English TV but that he was hopeful it would hit this side of the Atlantic via DVD.
Well, a year later and we're only a couple weeks away from The Increasingly Poor Decisions of Todd Margaret's premiere on IFC. Reunited with fellow Arrested Development alum Will Arnett, Cross plays a hapless sap who falls into the (in)opportunity of moving to England to champion sales for his company. The product? ThunderMuscle - an energy drink of unprecedented strength.
The full pilot has been released online by IFC and I've embedded it below for your convenience. Check this shit out, it's some of the funniest TV I've seen in a damn long while. Highlights include Todd Margaret's experimentation with ThunderMuscle, a caffeinated experience that leads him to the following self-description:
"I'm like Rocky and Rocky III – combined! I'm like, if Rocky II fucked Rocky IV – BOOM! – Rocky V!"
Enjoy.