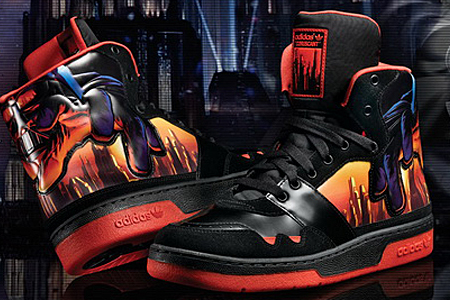 Sneaker Freaker carried a preview of the Preview of the Star Wars x Adidas 2011 line. Some of it is dope, some of it is gaudy, but the important thing is this: it's all fucking Star Wars. Freaker breaks down what we're looking at here:
The collection is broken into two parts – the 'Select Pack' that is closely modeled on characters from the original film franchise, and the 'Direct Pack' which fuses the Star Wars universe with sports and pop culture. Highlights include a AT-AT Pilot El Dorado with a jumbo tongue similar to the Jeremy Scott Mickeys; a vividly detailed Skyline with the urban skyline replaced by an illustration of the Imperial planet Coruscant; and a deathly dark ZX-8000 with crackling energy beams on the midsole representing Emporor Palpatine. There's also a nod to the Imperial Guard, a rasta Boba Fett mash up, plus some Ewing inspired Storm Trooper ballers.
Hit the jump for a gallery of the line.