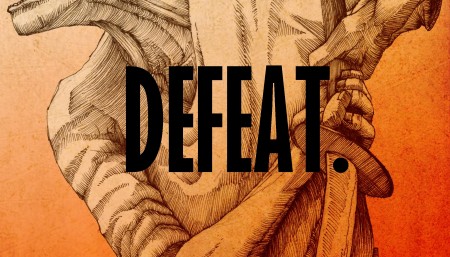 [DEFEAT. is a   coming-of-death novella. Brian Galiano lends his artistic talents to each episode. the end is nigh.]
There is no tomorrow.
There is no yesterday.
There is only now.
And forever.

Daryl Millar stood outside of the high school gymnasium, peeking in through an open door. He could see that all members of the student body were taking their seats in the bleachers. All those in attendance, anyway. As is the case with any suburban high school, a fair number of burnouts and weasels and academically-uninterested driftabouts made a habit of not attending classes on Fridays. Especially those Fridays peppered with the self-aggrandizements known as pep rallies.
With that being said, the vast majority were present for Daryl Millar's final stand. And the burnouts and weasels and academically-uninterested driftabouts? They didn't get too far before they heard about it.
But before this could happen, before the news could spray over the town with the vigor of a severed artery, Daryl would have to wait. For the perfect moment. Otherwise, all would be for naught. An inability to exercise patience could result in the unraveling of his plan altogether.
Which, as Daryl saw it, would be tantamount to an unraveling of the very realities he was hoping to secure.
He watched. He waited. He resisted the urge to run to his friends when he saw them taking their places. 8-Bit, assisted by Riff, hobbled and crutched his way to a seat in the front row. Daryl couldn't hear what they were saying, but he understood. He figured that they must have met before first block. He gathered that they'd have exchanged details about their last encounters with the third party of the triumvirate.
"Told me to play guitar."
"Told me to believe in myself."
Hell, Daryl mused, maybe Vanessa even met with them. Maybe she took my spot during the morning meeting of the minds. Yeah, that…that would make sense. Continuity would be provided. The three of them — the rocker, the gamer, the lover — together to venture guesses. Where was I? Why wasn't I at the locker? What would I do today? It wouldn't matter if they left questions unanswered. As long as they came together, in my absence, to ask questions.
That's all that matters — asking the questions. The rest will fall into place. I'm sure of it.
He couldn't have hoped for more; Daryl watched as Vanessa entered the gymnasium. She waved farewell to the classmate with whom she had entered, spotted Riff and 8-Bit, and found a spot next to them.
They're all here. Now, what about my enemy? The Tyrant — where is he?