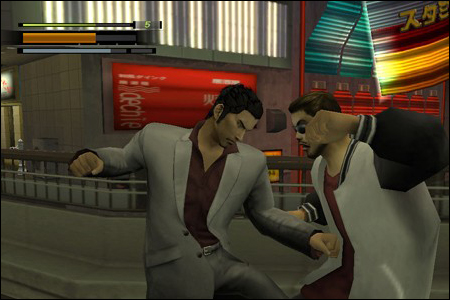 Over at Boing Boing, they have the dopest article I've read in a long time. Insanely crazy/awesome dude Jake Adelstein is a Jewish-American reporter who spent twelve years as a crime beat reporter in Japan, and then parlayed that experience into what I understand is an excellent book. More recently, Adelstein got three yakuza to sit down and voice their impressions on Sega's Yakuza 3. There's hilarity and insight within.
Excerpt #1:
K: It's like going back in time. Koma Theater is there, the pink salons, the Pronto Coffee shops, the Shinjuku Batting center, the love hotels.
S: You got your salaryman in there, the delinquent school girl and her sugar daddy, Chinese people, and even those Nigerian touts. What's with all the fucking gaijin (foreigners) in the area anyway? It used to be just Japanese, Koreans and Chinese.
M: Don't say gaijin. Say Gaikokujin. It's more polite. Jake's a gaijin.
S: Yeah, I forget sometimes. What's with all the fucking gaikokujin in Kabukicho anyway?

Excerpt #2:
K: Kiryu is fighting all the time. He's gotta be a fucking idiot. No yakuza is going to run around getting into fistfights like that. Especially not an executive type. He'll wind up in jail or in the hospital or dead, maybe even whacked by his own people for being a troublemaker. These days, he'd probably get kicked out before even going to jail. Guys like that start gang wars and nobody wants that now. When a yakuza gets into a fight, it's serious business.
Those are two clips from the entire article, which is surreal and engaging as I hope the two excerpts were. Get over to Boing Boing and check out the full-piece. Pull together an attention span that can persist for more than ninety seconds, and you'll be rewarded. I promise.