July 23rd, 2012 by
Rendar Frankenstein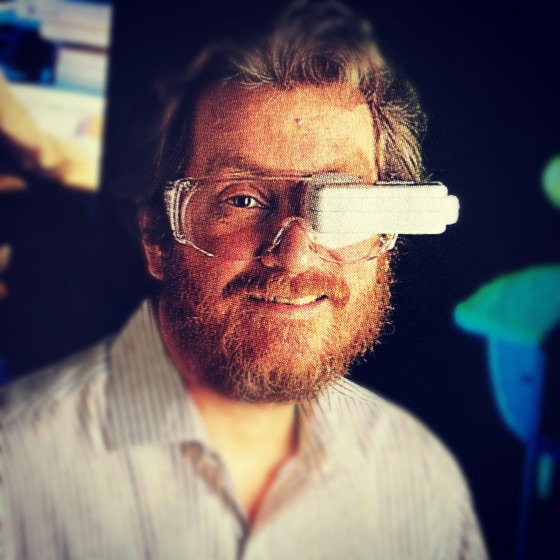 Transcender knew he was in for a world of shit.
He'd woken up from his Post-Lunar nap a bit early. Which wasn't unusual. But rather than waiting for Larissa – the lab assistant with the big smile and bigger bust – to help him out of his pod, he crawled out on his own. Everyone on the Station knew that rule number one is that Transcender was never to be left to his own devices.
Especially after a nap.
Running a hand through his beard, Transcender gazed out the bay window and laughed to himself. "Sweet Man-Jesus, where've they sent me now? Is that Saturn? Oh, if Rodrigo could see this, he'd prolapse for sure!"
Had he studied the mission plans as thoroughly as he told Doc he would, Transcender would've known that they were far, far past Saturn.
Transcender Yonder's attention was fully directed out the window, on the satellites and comets he'd soon be smashing to pieces, when a breeze of bitter wonder wafted into his nose. He immediately spun around, balancing best he could while his muscles readjusted to the artificial gravity, and began searching for the source of the smell. Other than his pod, all that was in the room was sterility – medical instruments, monitors, a vacuum.
And, much to Transcender's delight, a coffee pot.
Fast as he could, the Meta-Man approached the coffee pot, threw back its lid, and poured the contents into unhinged gullet. Having never tasted coffee before, Transcender basked in the wonder of simply experiencing something new. Coffee! Aha! So this is what they drink when they wake up! A fine concoction! Chemically stimulating and socially facilitating!
But then Transcender's hyper-sensitive neurons kicked into gear.
Larissa walked into the room just in time to see the six-foot-six ubermensch fall to his knees. He clutched at his left eye and screamed, "I have the pressure of a dying star within my skull! Sweet-mammaried  Larissa, save me! I beg of you!"
Without hesitation, Larissa picked up the phone on the wall and dialed zero. "Doc? Yeah, it's me. Looks like he got into the coffee. Yeah, Transcender's having his first headache."
Already knowing the answer, Transcender Yonder looked up and asked sheepishly, "Am I in trouble?"
—-
This is the Monday Morning Commute. I'm going to run through the things I'll be doing to entertain myself during the week. Then, you hit up the comments section and do the same. Hell, ain't this the whole damn point of the Internet?
Let's rock.