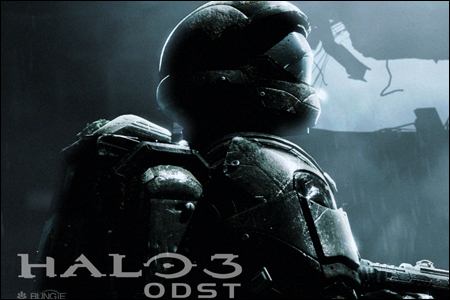 I may be crazy enough to call Halo 3: ODST the best installment in the Halo franchise yet. It seems particularly insane, since the game started off as DLC, then sprawled into a full release. All of this while not shaking the Halo 3 umbrella, because it wasn't long enough, it wasn't a full game, et cetera, blah blah. But I'm going to lay it on the line: ODST is shockingly superior in narrative and presentation to all the other Halo games. It left me with a sense of satisfaction that I haven't gotten since the original Halo. And that's what, eight years ago at this point? But I'm not bullshitting you.
Master Chief Sucks.
Oh my god fifteen million people just shit their pants. Fanboys are falling over and fainting and arming electronic messages of hate. But I love ODST so much more than the other Halo games because it finally put a human face to the epic, generic sprawling war that encompasses the Halo mythos. Master Chief is awesome because he can take an ass-kicking that would fell a tank, he does cool shit like hop out of spaceships, and he's apparently schizophrenic and talks to computer AIs in his brain.
But can anyone relate to Master Chief?
I CAN, I TOTALLY READ THE SEVENTEEN BOOKS PLUS I FOLLOWED ALL THE VIRAL MARKETING, AND OH YEAH, I'M AN OVERWEIGHT GAYLORD FANBOY
Yeah well, let's say that you're someone who hasn't read all the books, decoded all the messages, spent a million years on the Bungie message boards ruminating with fellow Halo fanatics. Is Master Chief anything more than the standard John McClean trope? No, not really.
I can't tell you anything about the first three Halo games at this point. It's been what, two years since the third installment came out? It's forgettable slop. Yeah, I said it: forgettable slop. It's a mushy Sci-Fi tale that borders on non-sensical for anyone who doesn't want to sit down and hash everything out.
So what you're saying is that the storyline sucks because you're too stupid to understand it?
Actually, maybe.
But what I'm really trying to emphasize is that I haven't connected with Master Chief and the primary storyline because it stars a sterile, unrelatable hero, with poor presentation.
So prior to playing ODST I thought that telling a lovable tale in the Halo universe was impossible.
Then I met Buck and Veronica.