March 19th, 2012 by
Rendar Frankenstein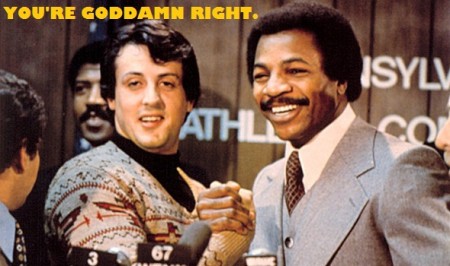 If you're reading this, it means that you survived Monday, the most dastardly day of the week. For it is on this day that we are forced to return to our places of business, to do the bidding of others in the hopes that we may one day fulfill our own dreams. Unless you're last name is Thoreau and you've got a friend who'll loan you a nice bit of land, chances're that you're not taking yourself off the grid. Instead, you're going to deal with a bullshit commute to get to job you don't love so as to be able to pay the bills.
Yikes.
But since we're all in this together, we might as well pool our minds together and come up with an antidote to workweek ennui. Thissere's the MONDAY MORNING COMMUTE – the weekly post in which I share with you the various ways I'll be entertaining myself until the weekend. Your task, should you choose to accept it, is to hit up the comments section and show off the Fun-Weapons you'll be using while we pillage Boringville.
Without further adieu, let's fuggin' ROCK!