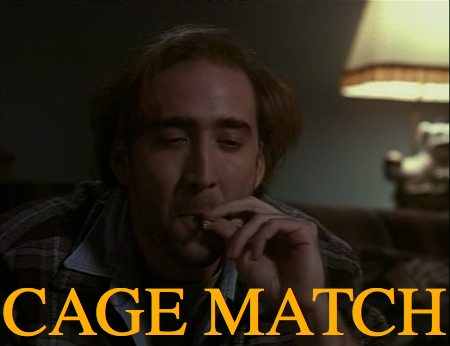 Welcome back, suckers, to the only column in the universe that wraps up all of the important Nicolas Cage news of the week. Besides news, we're also continuing our series of videos from OOP Cage films you probably haven't seen. Two weeks ago we brought you inside Cage's mansion with The Cage of Nicholas and last week we dropped a clip from the rare gem Time to Kill. This week we've got a real treat: Cage's brief but amazing cameo from the Adam Rifkin's 1988 comedy Never on Tuesday. In my opinion it's as baffling and memorable as his Eddie character from Deadfall.
Not too a lot of news this week but there is a titillating sequel rumor has surfaced that is sure to make your trousers tight. Also more on the upcoming Medallion and Ghost Rider 2. I'm a little tired, little wired, and I think I deserve a little appreciation! Let's do this!
Cage's Bizarre Cameo in Never on Tuesday
Never on Tuesday is a road trip boner comedy directed by cult director Adam Rifkin (The Invisible Maniac, Detroit Rock City). Andrew Lauer and Peter Berg (of Friday NIght Lights fame) play the lead hornballs, but sprinkled throughout the movie are brief cameos by big name actors including Cage, Charlie Sheen, Cary Elwes, and Judd Nelson. About 11 minutes into the film Cage, credited as "Man in Red Sports Car," makes his appearance. It's really…well, Cage-like. I threw the above clip on YouTube because the world needs to see this very important moment in our favorite actor's career. Enjoy!