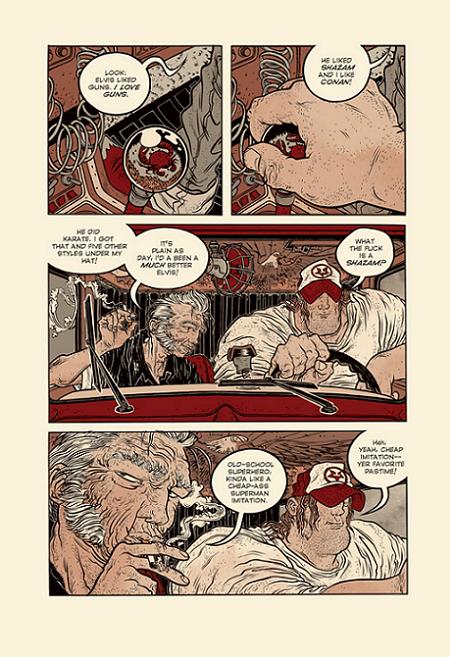 I understand that OL suffers from a lack of patronage on the Sabbath. But I just want to offer an early reminder to those who are stumbling their way around the site: Rafael Grampá's Mesmo Delivery is being (re)released this Wednesday.
As a proud owner of an AdHouse Books' edition, I can attest that Mesmo Delivery is the real fucking deal. In just under fifty pages, Grampá demonstrates a mastery of the comics medium that others spend thousands of pages striving for. As an artist, he tempers the putrid and violent with an appealing cartoon sensibility. Or perhaps he understands that the reader will feel at ease with the spiritually-Nickelodeon images, thus amplifying the effect of decapitations and pants-pissings.
Again, I won't harp right now. Between my previous feature, the upcoming Variant Covers and my probable feature for this week's Images & Words, Rafael Grampá is bound to have some solid real estate at OL. Just make sure you buy this book — in addition to the novella, Dark Horse is tossing in some bonus shit as well. Summarily, there's no reason to not support this rising star.